Captain Scott Reynolds has water flowing through his veins

2

min read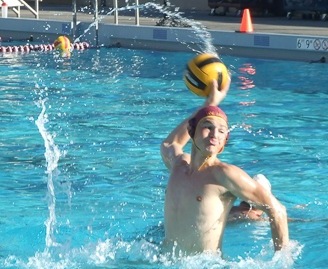 Age: 19
Weight: 175
Height: 6′
Major: Administration of Justice
Position: Driver
Sophomore Scott Reynolds, captain of the De Anza men's water polo team, makes being an athlete look all too easy, while still being a great support system to his teammates for personal or educational problems. With this being his first year at De Anza after transferring from Oregon University, no one really knew much about him.
"When I first met Scott, I couldn't really make out what type of person he was; he was really quiet," said fellow team captian Jane Kim. But as soon as he got in the water, people saw the pure raw talent that he could contribute to the team.
"Scott is a very determined person and unique. He is my best player, I wish I could have five more like him in the team," said head coach Kevin Paulson.
When did you get started playing water polo?
I have been playing water polo for about eight years. I started out playing for the Stanford Water Polo Club when I was 11, and then later went on to play at Bellarmine College Preparatory at age 14.
Has your life always involved water polo? What other sports are you interested in?
I've been swimming since I was about 5 years old, and so it has always been a big part of my life. When I was little, I also played a lot of baseball. I guess water polo was a good combination of them both and so I picked it up pretty quick and never stopped wanting to play it.
How does it feel to be captain? Are there certain responsibilities that you feel you have?
I'm very honored and humble to be captain. I understand that as being captain, I have to be both a role model and a leader. It's my job to make a good reputation and impression for both my team and my school. I also have to lead my team both in the pool and out to make sure everyone is prepared for our games.
What's your schedule like?
I have about three hours of classes a day Monday to Friday. We practice Monday to Friday from 1:30 P.M. – 3:45 P.M. We usually also have games over the weekend.
What are your plans for the future?
I plan to graduate from college with a degree in the administration of justice with a focus in criminology. In terms of water polo, I'd love to get a scholarship and play at a Division 1 school, but if that doesn't work out, I'll probably either try to walk on a team or play club. It doesn't matter where I end up going to college, I'll always find a way to play water polo.