In remembrance of Alyssa: "Be bold. Be strong. Kick ass." – Alyssa Sialaris

3

min read
De Anza College alumna Alyssa Sialaris, who died on April 3, is remembered as a talented athlete who had a serious funny side.
Karina Thompson, Sialaris' teammate on De Anza's track-and-field team, said Sialaris was a leader who led by example, but also knew how to make a person laugh.
Dawnis Guevara, head coach of De Anza volleyball said that Sialaris was intense as a player and people who did not know her saw her as a serious person.
"[But] everybody who knew her [knew] she had this other side that was a total jokester that liked to do pranks and have fun," Guevara said.
Thompson chuckled and said Sialaris liked to take pictures of people sleeping on the bus.
"She had a collection of i9`everybody sleeping on the bus on her phone," she said.
Thompson said Sialaris was proud of who she was and left nothing to the imagination.
"She pretty much wore who she was on her sleeve," Thompson said.
Sialaris was found dead in her off-campus apartment by Whittier College. Officials said Sialaris' roommate discovered her body in a bedroom.
Sialaris was born on August 3, 1991 and grew up in San Jose. She came to De Anza after graduating from San Jose's Leigh High School.
Sialaris, 21, was a bi-athlete, playing volleyball and throwing javelin in track-and-field.
She was planning to play professional volleyball in Europe starting this Fall with "Bring it USA Pro-Volleyball" after she graduating from Whittier.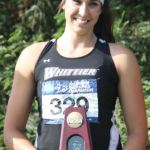 She earned multiple honors from the Southern California Intercollegiate Athletic Conference, American Volleyball Coaches Association and was named an NCAA All-American in both sports, as stated in the Whittier Daily News. Sialaris was also nationally ranked in volleyball. She ranked third in kills-per-set.
Sialaris transferred to Whittier in 2011.
According to the Whittier Daily News, Sialaris was majoring in kinesiology and nutrition science and was set to set to graduate next month with academic distinction.
Sialaris' funeral was held on April 22 at St. Nicholas Greek Orthodox Church in San Jose.
Pictures were placed at the altar: Sialaris with her sisters, Sialaris in her Whittier uniform, Sialaris standing in position with a javelin.
Sialairs was a daughter and a sister, the pastor said. She was an athlete, friend and schoolmate who had touched many lives.
Guevara said for the two years she coached Sialaris, she watched her grow.
"By the time she left she was ready to meet all the challenges of the world," said Guevara. "Face new things … [she] had a lot going for her."
In honor of Alyssa Sialaris' memory, funds and causes have been set up in her name:
1. The Whittier College Alyssa Sialaris Endowment fund is an annual scholarship that a kinesiology/nutrition science major will receive in Alyssa's name. Donations to this fund can be sent to Whittier directly or online.
2. Buying an Alyssa Sialaris No. 9 t-shirt will send proceeds to the Bring it USA volleyball program and help send one player on a professional European tour each year. The t-shirt will include a quote by Sialaris on the front and "SIALARIS" and the number "9" on the back.
3. A scholarship fund has also been set up for Sialaris' sisters. Nicole & Dina Sialaris Scholarship Fund is to help insure Sialaris' sisters are able to continue their education.
For more information on any of the funds, log on to: http://www.rememberalyssa.com/Donations.html