Don Sweep Conference Championships

2

min read
The De Anza College women's badminton team rose to the challenge at the California Community College Coast Conference Championships held on May 3 and 4.
The team finished its season 9-0 and advanced to the State Championships in Pasadena which began on May 9.
Facing opponents from Mission, Skyline, Fresno and San Francisco community colleges, the Dons earned six state tournament qualifiers in singles and doubles.
De Anza team member Sheung Wi "Pinky" Li was named Coast Conference Singles Champion and is undefeated with a record of 23-0.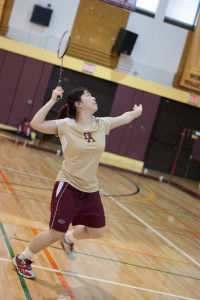 Li and teammate Jessica Dinh were named Coast Conference Doubles Champions. They were undefeated in all
doubles matches.
De Anza's "Team Ja" sisters Katherine and Cristina Ja finished as runners-up to Li and Dinh in doubles matches at two conferences this year and continue to add to the
teams' strength.
"I'm very proud that we are in the team championship.  It reflects the energy and commitment of all team members," said Mark Landefeld, head coach of De Anza's badminton team.
Team member Bonnie Liang devotes time to the Dons' badminton team along with her studies in Biological Sciences.
Badminton takes "perseverance, patience, sportsmanship and honesty," Liang said.
"Believe in your own mental strength. Don't let the game get to you and keep a positive attitude."
Landefeld, who was honored as the Coast Conference Coach of the Year said his team had a challenging schedule of competition and travel this year and responded very well.
The Dons do their best to create an atmosphere of camaraderie which was present in Saturday's games as teammates cheered and gathered to watch other matches when
they could.
"It's important to have teammates here to encourage one another," Landefeld  said.
"We get along and support one another," Dinh said, a biology major.
The camaraderie is seen in the friendly rapport with members of other local teams.
"Having fun on the court and not getting frustrated too easily are important in badminton too," Linda Danh  said, a nursing major from Mission College's badminton team.
"The other teams have strong players," Dons' Phoebe Wong said.
Wong said De Anza's team does its best to "learn from other players and always see room for improvement in our own game."
"The plan of how you play the game – strategy – is important in badminton," Wong said.