Dons finish third in conference, look forward to next season

3

min read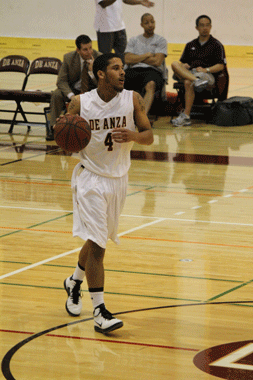 Dons bounced back after injuries, ended 3rd in conferece
The men's basketball team of De Anza College ended its season in third place in the NorCal Conference, with an overall record of 13-13.
The Dons made the playoffs but lost to San Jose City College 84-91 in round one on Feb. 27.
The team had five sophomores and nine freshmen. The season started with rocky footing as the Dons lost their first two games to Contra Costa and Chabot colleges.
But the following Monday, the team was back in practice, working on court skills as well as learning to work with one another.
Freshman Shaquille Gilbert said there were many disagreements because views of the freshmen were different from that of the sophomores.
"We had the talent," said sophomore Nolan Williams. But the issue, he said, was building trust within the team.
"We were not communicating," Gilbert said.
So the players held team meetings, talked and worked through their differences.
Falling in pace with each other, the Dons went on to win five of their seven next games. In two of those games, the Dons beat Foothill College 53-50 on Nov. 28, 2012 and the College of the Sequoias 83-69 on Dec. 7. Both Foothill and College of the Sequoias were ranked in the top 10 teams in California.
Across the Northern California, the Dons had five wins against teams that had 18 or more wins, falling in behind San Jose City and West Valley colleges, who each had six wins.
But the Dons lost five straight games as player after player was injured. Williams was out with a shoulder injury, Gilbert with an ankle injury. Freshmen Abu Tratter, Alex Bull and others also had injuries.
As players came back, the Dons started to win as they revived their game. Sophomore George Henderson, standing at 6 feet, led the team in rebounds.
Three team members also made all-conference: sophomores Williams and Denzel Copeland and freshman Dawson Johnson.
The Dons ended the conference 8-4 before heading into the playoffs against San Jose City.
"The season overall was a success," said Jason Damjanovic, head coach of the men's basketball team.
He said that the 2012-13 team completed one of his two goals and that was making the playoffs. The team fell short of his other goal, which was to win the conference.
Damjanovic said that given the competition they had throughout the season and the injuries players dealt with, he credits the team's unwavering commitment.
"I have never questioned effort with this team, all year," Damjanovic said.
Damjanovic said he also credits his assistant coaches: Chris Malloy, Phil White, Eric Davis and director of basketball operations, Kirk Lee.
"Their jobs are thankless," he said. "Preparation is key…I have never had a more prepared team going into games than this year."
Returning next year as sophomores will be Gilbert, Tratter, Devante Bryant, Thomas Estifanos, Alex Bull, Dawson Johnson, Gal Shapira, Nick Ruotolo and Deryck Ylanan. Joining them will be Gary Ames, who was injured and could not play this season.
"I'm looking forward to next year, to be able to do the things I couldn't do this year," Gilbert said.
"Everyone coming back [next year] is key because I expect them to be better," Damjanovic said.
Current Sophomores Williams, Copeland, Armin Paras, Stefan Demirovic and George Henderson are now looking to transfer.