De Anza blows four run lead against Mission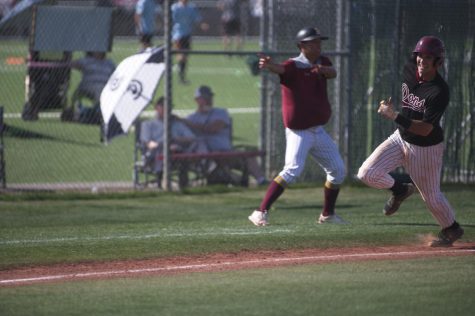 The De Anza College men's baseball team suffered a come-from-behind loss to Mission College on April 18, losing 9-7.
De Anza lead 5-1 after five innings but Mission outperformed them in the last four.
De Anza took the lead right away, scoring a run in the first inning. A solo home run by Mission in the second inning tied the score before De Anza scored four runs in the fourth inning.
After the sixth inning, Mission scored eight more runs and De Anza only scored two.
Sophomore pitcher Lane Maxwell, 20, business major, walked two batters before giving up a three-run home run that sailed over the center field fence.
Three more Mission players scored runs because of walks and being hit by pitches.
A two-run eighth inning by Mission tied the score before a three-run ninth inning proved too much to overcome for De Anza.
The game ended when third baseman Cameron Castaneda, 20, business major, was thrown out trying to advance to second base.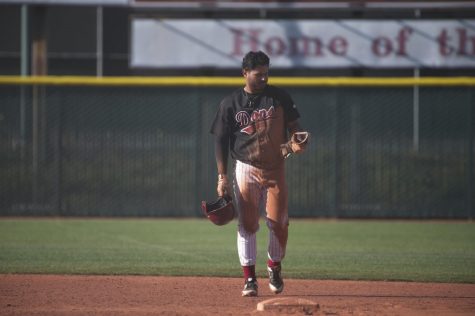 Castaneda said the late-inning collapse was familiar to the team.
"We're just not able to close," said Castaneda. "That's kind of just how it's gone the whole season."
Shortstop Tiaga Sato, 20, mathematics major, said De Anza could improve by not allowing their opponents to capitalize on mistakes.
"Walks and hit-by-pitches definitely hurt," said Sato. "It just mentally derails us from getting into that rhythm."
Head coach Erick Raich said he was proud of the players for performing well after their scheduled starting pitcher could not participate due to numbness in his face.
"That was a gutty performance from our guys," said Raich. "We have some guys that are playing out of position, guys that are doing a little bit more than what we anticipated them to do coming into the season."
Sato said loss and failure are built into the nature of baseball.
"Most of the time we're bound to fail in baseball, so to say," said Sato. "So we just flush it, keep moving on. That's all we have."