FEATURE: School purchases student pieces at the student art show award ceremony

2

min read
Without any art background, De Anza College student Lisa Tang started taking photography classes "just for fun" back in 2009. For the third time, she was awarded the Purchase Award at Euphrat Museum of Art the student art award ceremony
May 22.
Staff, faculty  district trustees, art professionals and students celebrated art students' accomplishments amid pieces in an exhibit that ranged from pictorial documentation of artists' global treks to whimsical installations.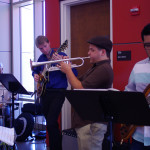 Before the ceremony, live jazz music accompanied guests as they gawked and weaved through stunningly crafted and installed art work. Elevated levels of chatter and music quickly resonated through the hallways and exhibit room at the Euphrat.
"I think it's a wonderful turn out of students and their work, a  real diversity of the themes and approaches and media," said Diana Argabrite, director of the Arts & Schools Program at the Euphrat. "I'm very proud of the students and their work."
Foothill-De Anza Community College District Chancellor Linda Thor presented 10 students the Juror Award and six students the Purchase Awards honoring their pieces consisted of photos, sculptures and paintings.
Alejandro Tapia, 27, a photographic arts major, won a Purchase Award for capturing a one-of-a-kind black and white photo of New York City through a helicopter tour over the city.
Joseph Rodriguez, 22, a painting major, recieved a Juror Award. His winning piece, which holds a prime estate on the exhibit wall, spotlights a  giant mural caricature of the Aztec goddess Tlazolteotl.
Rodriguez's second painting, "The Land Of," a giant canvased American Flag, also gathered some attention. Guests were encouraged to scribble down words that they think describe America.
The DASB senate purchased all six Purchase Award pieces, and they will become  part of the permanent collection displayed on campus.
"It's a wonderful feeling to have someone buying your print and willing to hang your print on their wall," said Tang.