De Anza men's basketball falls seven points short of first conference win
In their 20th game of the season, the De Anza Mountain Lions fought against the Cabrillo Seahawks for the whole game, but fell short with a score of 86-79, putting its season record at 2-18.
Guard Tim Oldham scored 19 points and led the team with seven assists.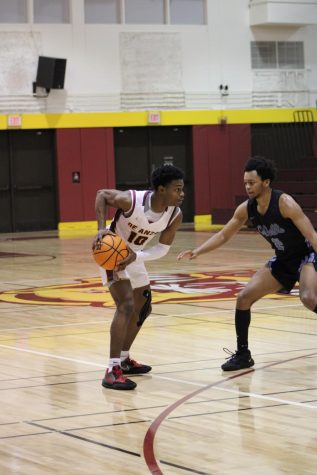 Head coach Chris Malloy said, despite the loss, that he liked the team's energy level.
"I thought they competed and fought for 40 hard, well-played minutes," Malloy said.
Isaiah Frazier, 19, kinesiology major, is a  guard for the team. He said the Mountain Lions were unified and all had energy directed toward the goal of winning.
"I thought my performance was good and my teammates were really good as well," Frazier said. However, he notes that "We've been really struggling to form a bond as a team."
In the early stages of the game, De Anza College's offense was effective in getting points and started the game with a lead of  8-2.
To cap off their great start, forward Marc DiFrancesco made a top of the key three-point shot to give De Anza the biggest lead of the game with a score of 30-18.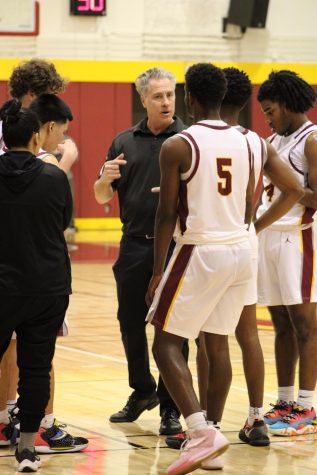 To end the first half, guard Tim Oldham made a step back three-pointer in front of his defender to end the half at 41-35.
The De Anza Mountain Lions defense was decent in the second half, as guard and forward DeBoyce Ware lead the team with three steals and three blocks. However, the Mountain Lions kept getting the ball stolen by the Seahawks' full court press, making it difficult to play  offensively.
"When a team like ours has a tough season, we honestly look to ruin other teams' playoff hopes toward the end of the season," Ware said. 
Coach Malloy believes the team could have handled the game better. 
"I don't think we handled the pressure very well," said Malloy. "We had 23 turnovers and [it] has a lot to do with what Cabrillo did."
The Mountain Lions' upcoming conference matchup is Wednesday, Feb. 8 at 5:30 p.m. against Hartnell College.