Women's basketball wraps up season with determined loss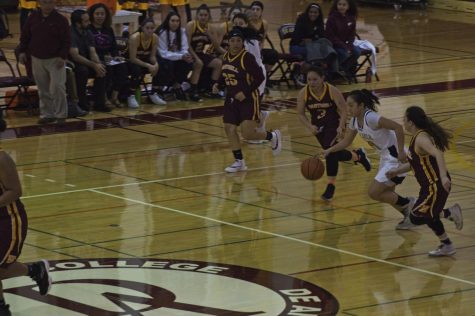 De Anza College's women's basketball team narrowly lost their final game of the season against Hartnell College, 68-64 on Friday, Feb. 22.
Defense by the Dons was strong throughout the game as they came up with key blocks at the basket to ensure they kept the scoreline neck and neck till the end.
The lead was constantly rotated between both teams and the Dons went into halftime ahead. But, a few impressive offensive plays made by Hartnell in the final quarter ultimately led them to emerge victorious.
Team spirit was evident in the match as the Lady Dons exhibited teamwork throughout the game and this kept the crowd on their feet despite the final result.
Although the season overall was disappointing with a total of only four wins out of 23 games, the Lady Dons delivered an electric final game to close out the season.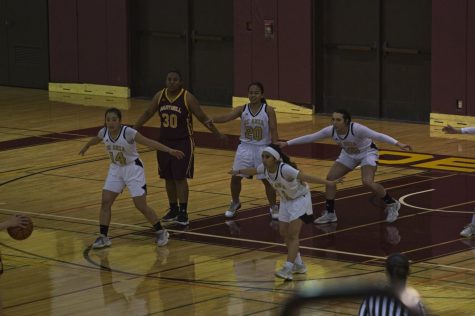 "It's a bummer that we lost a close game, but at least we fought really hard all throughout," said Hannah Lee, 18, kinesiology major.
Lee leads the Lady Dons in scoring and contributed 28 points on the night.
The team also said a heartwarming goodbye to graduating sophomores Doryn Gomez, Rilizza Isla and Sophia Rodriguez before the game begun.
"Their personalities make our team, and with them gone it's like we're missing a part of ourselves." Lee said.
The team and cheerleaders were also wearing pink during the game in support of the American Cancer Association for Coaches versus Cancer Awareness Night. The ACA was accepting donations to support cancer patients throughout the game.