Run, Hide, Defend training session sees poor turnout
The second of two run, hide, defend safety training courses had an underwhelming turnout on Wednesday, Oct.24, despite the importance of the education being provided.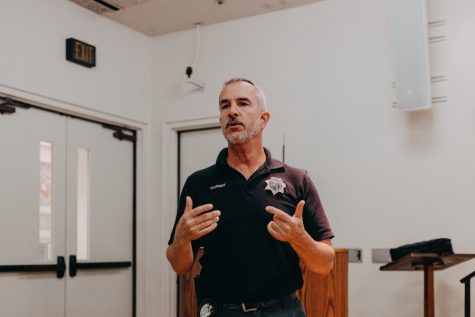 The seminar, led by De Anza assistant police chief Danny Acosta and officer James Thurber, was an instructional course on what options were available for students if they encounter an assailant on campus. Only three people attended, a number which includes two La Voz reporters. Acosta said oftentimes, people don't show up unless there was a recent shooting.
"It's sad that students attend only after a shooting, because that's when reality sets in the mind and it comes to the forefront," said Acosta after the meeting. "It's unfortunate that that's when we have to do it."
Advertisement for the event was minimal, but 27-year-old education major Ceidy Ocegueda found out about the event on a campus-related Facebook page.
"I'm here to learn strategies for what to do as opposed to shutting down during an incident," Ocegueda said. "I want to be able to prepare mentally."
Information that was covered included what to do in the case of an active shooter, the difference between a shelter-in-place and lockdown notification, and how to work together to defend oneself against an attacker. With shootings of all kinds happening so often, the latest having happened just today in Kentucky, run, hide, defend training is critical at a school and in many other situations.
Despite the low turnout, Officer Thurber said he would continue to provide the education every quarter at both campuses, while Acosta said he would push for it.
More information on run, hide, defend can be found in this video.