A 19-year-old female student reported that she was sexually assulted by an acquaintance on De Anza's campus Monday, Nov. 4, according to campus authorities.
She reported that a male individual sexually assulted her inside the first-floor women's restroom at the Media & Learning Center between 1 p.m. and 2 p.m., according to an email statement to the campus community sent Nov. 6.
The suspect, who is between 18 and 20 years old, had not been arrested by the time La Voz went to press Friday, FHDA District Police Department Chief Ronald Levine wrote in an email.
He wrote that the individual, whom investigators believe is a De Anza student, was the only reported suspect. Levine could not confirm if other people have been questioned.
Story continues below advertisement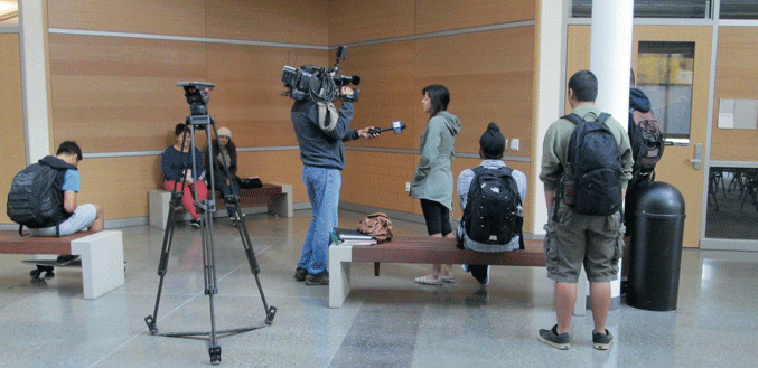 Alyssa McKay, a second year undecided major who has class at the MLC, said that the incident did not make her feel safe.
"I've heard about other instances, but not ones during the day and on-campus," McKay said.
"I would've liked to know about it as soon as it happened, but (De Anza) dealt with it well by sending out that message."
Students and faculty received the email notification as early as 2:24 p.m. and as late as 11:31 p.m.
"The email was sent promptly after details of the report could be confirmed," Marisa Spatafore, director of marketing and communications for De Anza, wrote in an email.
Kimberley Mejia, a first-year nursing major who also studies at the MLC said she didn't feel safe using that restroom anymore.
"It's not so much the school – it's the attacker," Mejia said.
Devarshi Pandya, a second year engineering major, said even though his perception of campus safety did not change, the campus needed extra security.
"They should've sent some cops or at least one cop to the building today just to make students feel safer," Pandya said in an interview Thursday Nov. 7.
Levine wrote there will be additional patrols throughout campus.
"We do not expect the investigation to disrupt the academic process," he wrote.
StateUniversity.com, which ranks college campuses by severity and frequency of criminal activity, lists De Anza as the 11th safest community college in the U.S.
Nicholas Vulpe, a second-year music major, said he was most concerned about the victim.
"I felt a little bit speechless because it's a terrible thing," Vulpe said. "I hope she's OK."