'Wayfinders' show explores Polynesian navigation of stars and winds
De Anza College's Fujitsu Planetarium presented "Wayfinders: Waves, Winds and  Stars," that taught audience members how to find stars, houses and directions on a compass on May 13. 
"The Polynesians realized that the cultural knowledge that had enabled their ancestors to flourish on islands throughout the Pacific needed to be shared with the rest of the world," the cultural video explained.
With seats filled mostly by children, the planetarium sky guide Mike Askins began the show with a video about Polynesian culture followed by a lecture on stars. Countless stars were projected onto the dome as Askins taught attendees how to recognize constellations such as the Big Dipper and Orion.
Askins not only led the audience in focusing on the rise and set of the stars, but also explained how navigation is influenced by other factors.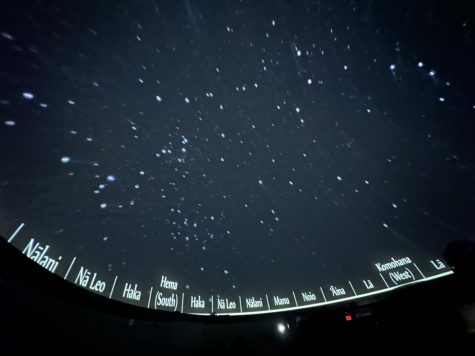 "While you're watching the night sky, it's not just astronomical navigation," Askins said. "You're also using exquisite observation of lots of other natural cues like bird migrations, waves, winds and tides."
He also taught the audience how to use the Hawaiian compass.
By using their fingers and horizon lines, attendees could locate the Hawaiian islands with just finger measurements and the stars like the Polynesians.
"How many stars and how many fingers can you tuck between the star and the horizon," Askins asked the audience. "This is a personal measurement because it depends on how close you are, where you're sitting, and how big exactly your hands are."
Audience member Hai Nguyen, 42, electrical science major, said he enjoyed the application of scientific topics in the show. .
"I thought we're just going to look at science, but what we learned was the use of science to do something that has never been done before," he said. "I definitely would recommend others see it, especially if you like science or astronomy."
The Fujitsu Planetarium will resume its shows to the public in October 2023.  
To attend a planetarium show, visit http://www.deanza.edu/planetarium for the schedule and event tickets.