How David Kobata became the athletic trainer who can do it all

4

min read
Being responsible for over 400 student athletes, De Anza College Athletic Trainer David Kobata has handled this duty tremendously for over four years and continues to treat any mishaps athletes may have
After taking courses at De Anza, Kubota transferred to San Jose State University for his bachelor's in kinesiology. Once he received his certificate in athletic training from San Jose State, Kobata became an athletic trainer at De Anza in 2018. 
"I just always loved the idea of helping people," Kobata said. "I like knowing that I take part in getting them back on the field, court or the track." 
Being an athletic trainer allows Kobata to help students in multiple different ways, such as helping students apply the proper protection and injury-preventive tools to help soothe and heal the athletes injuries. Kobata is responsible to carry out rehabilitation programs for the athletes, evaluate certain injuries and prevent further risk of harm and overall be a helpful and supporting leader for the De Anza athletics department.
Kobata said his highest priority is helping them recover and returning them to their season as quickly as possible. Daily tasks for Kobata include taping wrists and ankles, providing exercises to build strength and combining heat with ice techniques to relieve muscle pain.
Other than the physical health of the athletes, Kobata also oversees the COVID-19 health procedures that began in 2020 at the height of the pandemic. During this time, his role was to make sure athletes got tested and communicated with students about the process of returning to campus.  
"One of my key memories is definitely the relief of making it through the peak of COVID and knowing that I was able to get everyone on campus," Kobata said.
Kobata has had to execute all athletic trainer responsibilities by himself until this year when  he gained some much needed help from Assistant Athletic Trainer, Zara Lovelace and student assistants.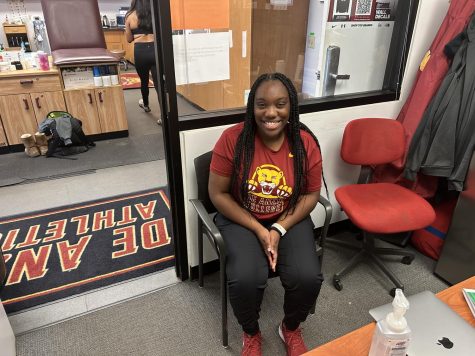 Lovelace started as a student assistant at De Anza in 2017, then later transferred to San Jose State to fulfill her certification in athletic training.
"David has definitely been very impactful on my career so far as he has pushed me to be better everyday," Lovelace said. "He has been a strong mentor and gives me advice for both being a trainer and aspects of life as well."
De Anza's Athletic Director Ron Hannon has had a long history with Kobata prior to working with him on campus. Both of them ran into each other often at San Jose State — Hannon was on the basketball team and Kobata was involved in sports training and medicine.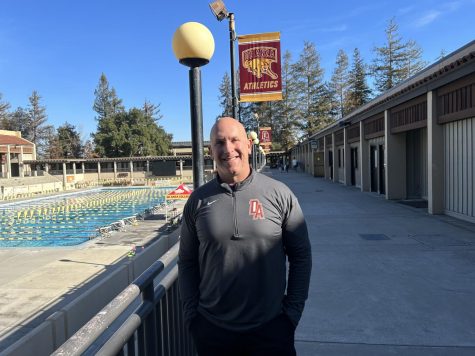 Hannon has been the athletic director for nine months and said that he has seen the impact Kobata has on the students in his short time at De Anza
"David has always had a gentle, kind spirit and has always been very supportive of students," Hannon said. "I can tell that he loves his job and I have always respected his approach that he has coming into work everyday."
Kobata said there are various aspects to his work that keeps him motivated. 
"I would say that getting to meet people from different upbringings and parts of the world is something I look forward to," Kobata said. "I am grateful to have the job I have because I know that working in a corporate office is not for me."
Working at De Anza, Kobata said he has been able to help student athletes not only throughout California, but also from other states and even different countries. Kobata said this position has given him the opportunity to meet new students and help them thrive in their respective sport. 
"I love being able to see people succeed," Kobata said. "Especially when they transfer to the four-year college of their dreams."
Cross country and track and field coach Nick Mattis has worked with Kobata for over four years. Mattis says he is impressed by the immense effects Kobata has had on past and current cross country and track and field athletes. 
"I truly think that David cares about the athletes here the most out of everybody," Mattis said. "He helped our track team on our historic run this year, as we had multiple injuries throughout the season, and he helped our team become successful."
Kobata plans to continue to be the athletic trainer at De Anza, assisting the health and wellbeing of all student athletes for years to come.
"My experience here so far has definitely had some ups and downs," Kobata said. "But I wouldn't trade any of it for the world."