Advice for transfer students from the Transfer Center

3

min read
Throughout the year, De Anza College's Transfer Center serves a variety of functions related to the transfer process: holding informational sessions covering the process of transfer to different public and private universities, Transfer Admission Planner (TAP) workshops, Transfer Admission Guarantee (TAG) workshops and inviting representatives from different universities to speak with students in-person and online over Zoom.
As application due dates approach, such as University of California (UC) and some California State University (CSU) applications due on Nov. 30, the Transfer Center's events have been more frequent.  
On Oct. 4, Betty Inoue, a counselor at the Transfer Center, hosted a PowerPoint presentation on how students are able to enter an educational pathway starting at the Community College level and transferring to a four year University upon completing 90 credits within two years. She emphasized how those credits must be attributed to classes related to a student's major alongside basic general education classes.
"Lower division major preparation is required," Inuoue said. "[And] courses needed for major preparation are critical for competitive majors and campuses."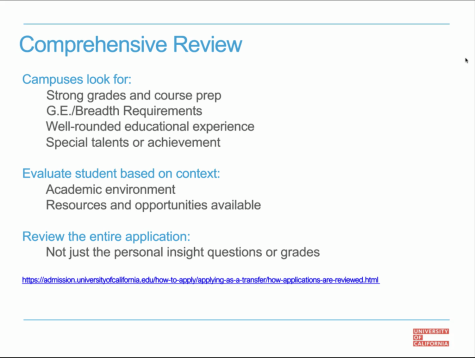 These requirements are outlined by the Intersegmental General Education Transfer Curriculum (IGETC) document, which details the courses needed to be taken in order to be eligible for a transfer within a certain major. 
"IGETC is accepted by both UC and CSUs, but there are a few differences," Inoue said. "CSU's requires a communication class (Comm 1 or Comm 10) to be completed, and the Area 6: Language Other than English requirement is only for UCs," Inoue said.
For transferring to a CSU, De Anza now offers the Associate Degree for Transfer. Khoa Nguyen, transfer counselor at De Anza, spoke briefly during a UC application workshop on Oct. 11 about how the Associate Degree guarantees priority admission when students complete required classes for their major. 
"[Associate Degree for Transfer] gives you some perks depending on the school and the major," Nguyen said. 
UCs offer a similar plan called the Transfer Admission Guarantee (TAG) program, which is an agreement between community colleges and UCs in which students transferring from a community college upon meeting set requirements for their major are guaranteed a spot for that major in the term they apply for. According to Inoue, only a select number of UC campuses participate in TAG, such as UC Davis, UC Riverside, UC Irvine, UC Santa Barbara, UC Santa Cruz and UC Merced, and applications closed Sept. 30.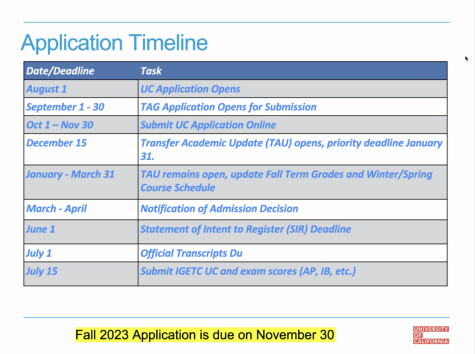 Kaylee Martinez, administrative officer for University of California San Diego (UCSD), who has given group advising at De Anza in the past, stated that UCSD had a transfer admit rate of 59 percent, with 11,600 transfer applicant admissions in the Fall 2022 quarter. 
"We look for completion of minimum major preparation requirements [among transfer applicants]," Martinez said. "UC conducts a holistic review process, so we look at academic factors as well as extracurricular involvement beyond the classroom."   
Those planning to apply for transfer at a private University, such as MIT or Stanford, have a different set of requirements and due dates than CSUs and UCs. Information about the requirements needed for private universities can be found through the schools' individual websites, or the the Association of Independent California Colleges and Universities website.  
"Private schools are more flexible," Inuoue said."[There are] fewer classes [needed] to be taken, but this varies."
Students looking to transfer are able to contact the De Anza counselors at the transfer center to set up individual academic plans or to ask any questions they have about the process. They are also able to connect with one another through a Transfer Support Group hosted by De Anza on Mondays and Wednesdays starting Oct. 28 from 2 p.m. to 3 p.m. on Zoom, with Alan Palmer, a clinician who was a former transfer student.