Prof, former gang member, speaks

2

min read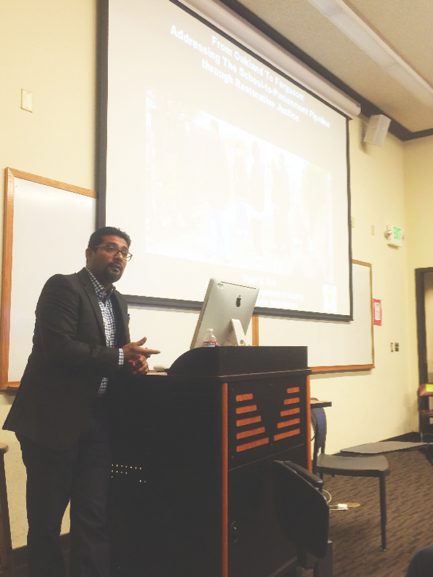 Nang Hlaing, Staff Writer
November 12, 2014|31 Views
Use obstacles as strengths, a professor and former gang member told an audience of De Anza College faculty and students Nov.4.
Victor Rios, author of "Punished: Policing the Lives of Black and Latino Boys," said, "Obstacles may break some people, but they can make the rest."
Rios's talk "From Oakland to Ferguson" offered powerful advice to a full house in MCC 10.
Rios discussed his book about how Latino and African-American boys get caught up in a vicious cycle of gang life due to discrimination by the justice system, eventually leading many of them to fulfill the destiny expected of them.
Despite the heavy topic, Rios's humorous and confident personality kept the audience engaged.
Rios, a sociology professor at UC Santa Barbara, also wrote "Street Life: Poverty, Gangs and a Ph.D.," which he handed out as a reward for an audience member for asking intelligent questions.
The talk was both a presentation of Rios's projects and a conversation with him. De Anza students asked questions about his project and his past, and Rios was forthcoming, giving intelligent and resourceful answers.
Rios said he used to be in a gang, but transformed his life when his childhood friend was shot in front of him and died. He said his transformation was only possible because he had help from his teacher, a white, non-Hispanic woman.
"She believed in me," he said. "My teacher believed in me so much that she tricked me into believing in myself." Rios graduated high school with his class, and continued to pursue his education up to a doctorate degree.
Rios presented his research titled "Project Grit: Intervention in Watts," which followed many Latino and African-American boys who were discriminated against by the system and dropped out of high school. He used experiences from his youth on the street and current status as a professor to help these youth gain back their confidence and urged them to go back to school.
Both of Rios's books, "Street Life" and "Punished" are available in the De Anza bookstore.