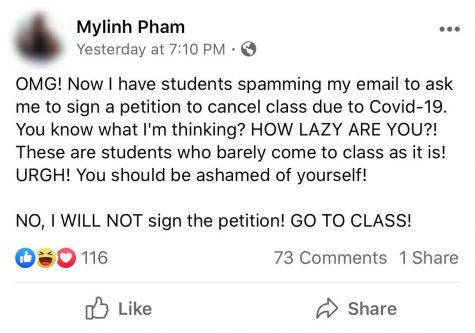 Annalise Freimarck and Kathleen Quinn

March 9, 2020
Late Sunday night, a part-time faculty member made light of signers of a petition that seeks to close De Anza campus due to local coronavirus cases, on an unofficial Facebook page for De Anza College. Part-time history instructor Mylinh Pham wrote "OMG! Now I have students spamming my email to ask...
Abhiram Rishi Prattipati, Staff Reporter

June 15, 2019
De Anza College's Academic Senate debated a resolution to increase the maximum amount of hours a part-time professor can teach from 60-67% of a full-time professor's hours to 80-85% at the March 11 meeting. The resolution in support of Assembly Bill 897 received six votes in favor, six votes in...