De Anza's MSA holds first picnic in a year in celebration of Eid al-Fitr
De Anza's Muslim Student Association held an Eid al-Fitr picnic in Santa Clara Central Park on April 30.
Ramadan is one of the holiest months for the Muslim community. During this time, people usually fast from sunrise to sunset, pray five times a day, attend services at the mosque and give to charity.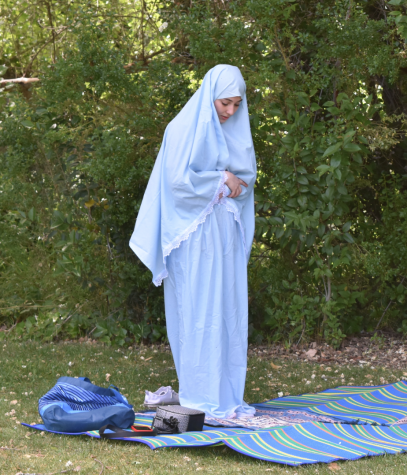 Eid al-Fitr is traditionally a three-day holiday marking the end of Ramadan. Shaheer Hasnain, 20, computer science major, explained what it personally meant to him. 
"The whole month is about purifying yourself and becoming a better person than you were the month before," Hasnain said. 
Members of the MSA chatted, helped to set-up games, ate and prayed. Meera Shaarani, 19, animal science major, attended the picnic and said she looks forward to this month every year.
"When I tell people I'm fasting, they usually say 'I'm sorry,' but there's nothing to feel sorry about," Shaarani said. "I want people to know that this is our favorite time of the year and we love fasting, not just because it's a spiritual cleanse but also because it's a way for Muslims to get closer together."
Muslims may celebrate Eid differently from one other. Rasol Alofi, a 20-year-old computer science major, said he celebrates with both family and friends.
"I try to get both in there, but most commonly family is 100% the priority," said Alofi.
The president of MSA, Asiya Shaik, said that Muslim students are either "super" attached or detached from Islam.
"The MSA is a way to be around other Muslim students and build a community with people who have the same lifestyle as you," said Shaik, 19, economics major.
Hasnain said De Anza provides a friendly atmosphere for clubs from around the world and MSA has been welcoming to Muslim students. 
"Everyone is just happy to be here and make friends," he said.  "There's no social cliques or anything like that."
Shaarani said her goal for next Ramadan is to read the entire Quran.
"I want to read the entire book and understand it on a spiritual level," she said.