Pilipino Student Union's open house recruits students, explores Filipino culture

3

min read
On Oct. 8, Pilipino Unity Student Organization held their first event of the year, the Virtual Open House, to welcome new members and promote the club. 
The open house started off with an ice-breaker game. Afterward, the core members of the club started to introduce the PUSO club to the new members and talked about the upcoming events, workshops and the Kuya-Ate-Ading-Program or the KAAP. 
"It is basically a mentorship program," said Jonathan Cabrera, 21, communications major and president of PUSO. "When signing up for the program, they have to uphold the principle of it." 
KAAP stands for "Kuya", "Ate" and "Ading," which means older brother, older sister and young sibling in Tagalog. Cabrera said that it is specifically for new students who are new to college, and the mentors of the program will guide and nurture them. 
"If they ever need a shoulder to lean on," Cabrera said, "they basically have someone." 
He said that the program is open to anyone even though he or she is not Filipino. 
"They can definitely join because PUSO welcomes everyone," Cabrera said.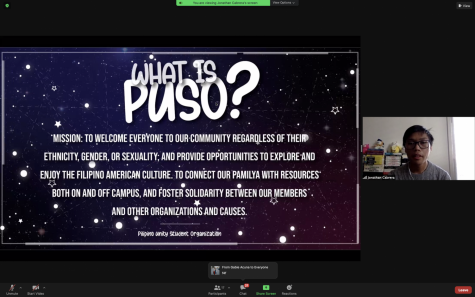 The club also introduced a Filipino study class to its members. The class, which will be opened to students in the winter of 2021, is the effort of the Filipino Classes Campaign, which is spearheaded by PUSO.
Rochelle Gatus, 24, liberal arts major and the community chair of PUSO, said the campaign had been going on since late 2017. The class talks about the role of cultural expression in movements seeking social justice for Filipinx American communities.
"I can't believe the class is finally being offered this year," Gatus said. "This is a project that was started way before I got to De Anza, so to see it actually come to fruition is really special."
She said that due to cultural and historical reasons, a lot of Filipinos have a cultural disconnect to their heritage. The class will explore the identity of being a Filipino American. 
Led by the president of PUSO, the open house ended with "isang bagsak," which is a unity clap and chant. He encouraged people to clap together, increasing in speed, and ended it by yelling "isang bagsak" at the same time. 
Chris Aquinde, 18, computer science major, said that he was considering joining the PUSO after the open house. 
"I used to be a part of another Pilipino club back at my high school," said Aquinde. "And I was hoping to find something similar to that here at De Anza."
He thinks PUSO and the KAAP program are a great way to make friends, especially as he is a first year student in De Anza.
He also said that he was looking forward to attending those workshops to learn more about the Filipino culture because he felt a disconnection to his culture. 
"'I'm kinda like growing up in a whitewashed family," Aquinde said. "So I am not really surrounded by all the traditional Filipino stuff that other Filipinos get to experience."
Cabrera said that the biggest challenge for PUSO this year would be recruitment and making fun activities. They planned to reach out to Filipino American students from different schools and areas. 
"If we do our outreach well enough," he said, "this huge Pilipino network in the area can just see it , and then possibly come."