Post-handshake comment leads to fight between De Anza, Chabot football players.

3

min read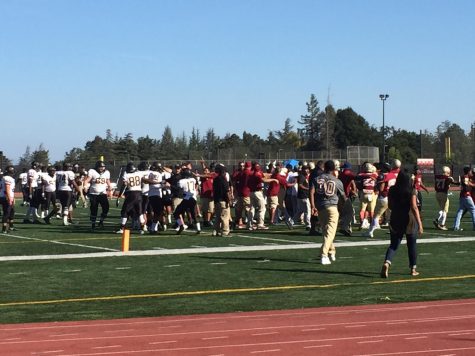 A De Anza football player was injured after a game Sept. 30, and police are considering charges.
The De Anza College football game against Chabot College took an ugly turn when a standard postgame handshake line devolved into a violent clash that involved both teams.
The Dons had lost 15-9 and currently have a 1-4 record.
A Chabot player admitted to police that he bashed someone on the head with his football helmet during the fight, according to De Anza head football coach Anthony Santos. The assault created a gash that sent the De Anza player to the hospital and required five staples to mend.
De Anza President Brian Murphy met with players on Monday to talk about what happened. The meeting lasted over two hours,according to Santos, and the events of Saturday's fight were discussed extensively.
One of the subjects broached was racial tension.
" During the handshake, there were things said that could be construed as racial," Santos said.
According to Santos, Murphy aided the team in forming community groups to discuss various issues during Monday's meeting, including racial tensions.
" We decided that further dialogue needed to happen," Santos said.
Murphy penned this statement in response to a request for comment from La Voz: " I met briefly with the players Monday afternoon, to indicate that the administration was informed about the incident and that we would await the results of the League review before
commenting on any particulars.
We take these incidents very seriously, and do expect student athletes to have high standards of behavior both on and off the field. I encouraged the student athletes to have their own conversations about what had happened, independent of any investigation, for their own reflection and understanding."
Murphy also brought up the fight during the De Anza Academic Senate Executive Committee meeting on Monday, Oct.2.
This incident is being investigated by the Foothill- De Anza College District Police, as well as De Anza College and Chabot College themselves.
The Santa Clara County Sheriff's department, which was called in to help control the situation, did not respond to a La Voz request for comment by press time.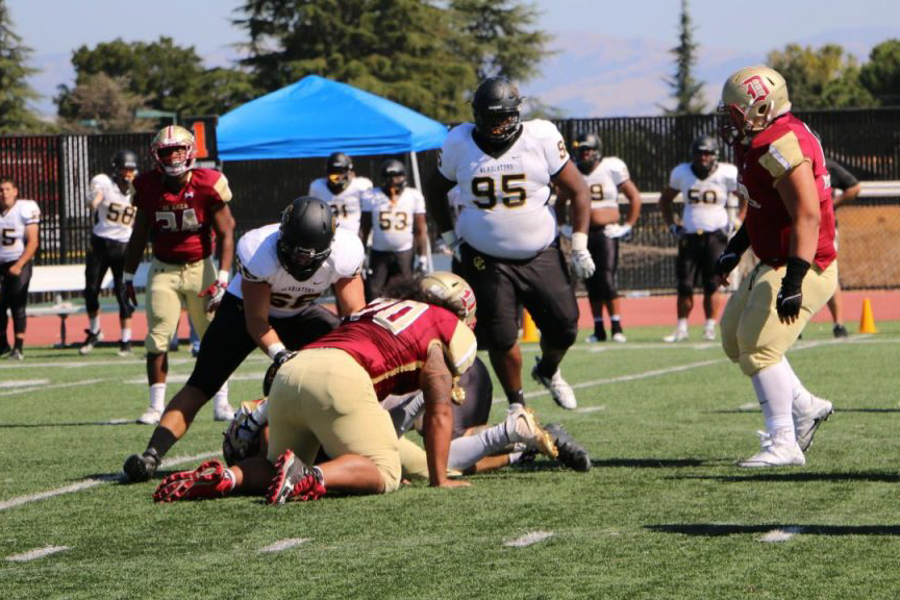 The was a missed opportunity for The Dons, who led 9-0 before surrendering two unanswered touchdowns to Chabot.
After a 42-yards first quarter-ending field goal from freshman Kicker Geraldo Gonzales gave De Anza a 3-0 lead, the Dons added on with sophomore running back Anthony Colaianni's third- quarter touchdown run.
Chabot answered back less than two minutes later with a score of their own, reducing the deficit to 9-7. With a little over three minutes remaining in the fourth quarter, they took their first lead on the final score of the game with an 8-yard touchdown pass from quarterback Jonathan O'Brien to running back Deangelo Stubbs.
The Dons will face College of San Mateo on Saturday, Oct. 14 at 1 p.m. at De Anza.