Dons blank Rams 11-0 in last home game of the season

2

min read
The De Anza College Dons annihilated the City College of San Francisco Rams 11-0 on Wednesday in their last home game of the season.
The Dons started scoring in the the first inning and never broke their stride.
Fueling the momentum was freshman pitcher Jack Rader (44), who pitched six scoreless innings and struck out two.
In the first inning, the Dons came out strong and capitalized on the Rams' errors to score runs.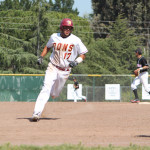 Sophomores Gilbert Guerra (3) and Cory Kingston (21) stole second and third bases respectively, because of a wild pitch by San Francisco.
Freshman Rey Gallegos (17) then singled and scored Guerra and Kingston.
Gallegos was able to advance to second base on a error by San Francisco's right fielder.
Another error allowed Rey Gallegos to steal third base. Sophomore Chris Gallegos (28) ended the inning by grounding into a double play and scoring his brother Rey Gallegos.
The Dons scored two runs in the third inning as Kingston stole home and sophomore Joey Austin (2) earned an RBI by singling to right field, scoring Guerra.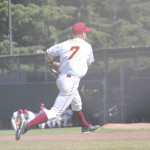 De Anza continued to add in runs in the fourth, fifth, and sixth innings to solidify their win.
Sophomore Shane Billings (7) singled to left field and earned two RBIs as freshman Jason Kim (30) and Chris Gallegos scored.
Freshman Roberto Cuneo (6) singled to right field and earned two RBIs as Billings and sophomore Joseph Slate (8) scored in the fifth innning.
The Dons' bullpen finished  the game with strong pitching from Nick Gomez (14), A.J. Strom (34), and Henry Santoro (45) and did not allow a single run for San Francisco
The Dons' season ended with a game at West Valley College, who they beat 1-0.
They ended the regular season with a  16-19 record.