Run, hide, defend trains students in school safety

1

min read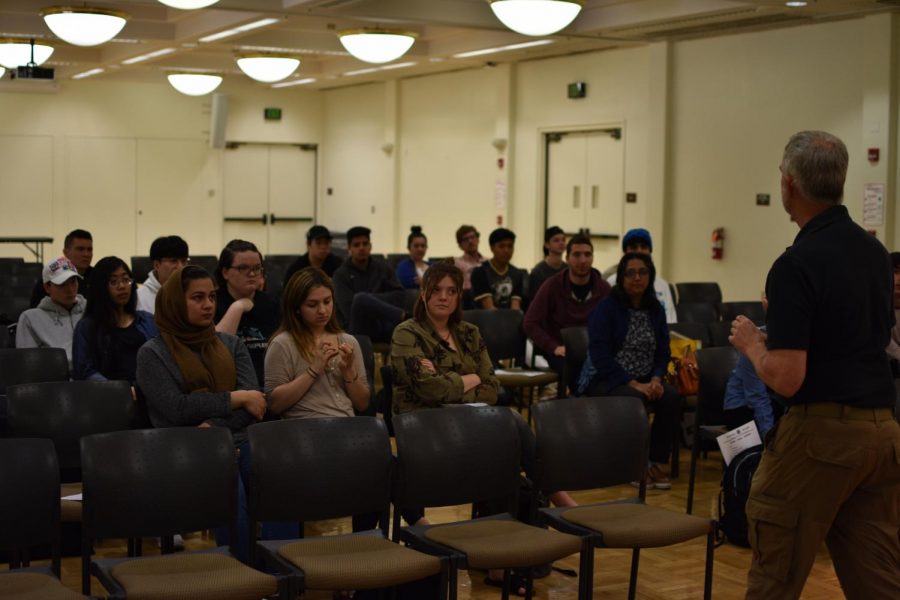 Dominique Evangelista, Staff Reporter
May 2, 2019|43 Views
Jim Thurber, police officer and speaker, provided a safe dose of fear and a call for awareness to a De Anza College English class with a safety training about what to do in an "active assailant" event on April 17.
Thurber addressed the recent school shootings and urged students to remember to be aware of their surroundings.
He called on students to share their fears and concerns about the frequency of school shootings.
Students were familiarized with the mind of an "active assailant" and learned the different possibilities during an attack, how to respond and how a person could help prevent such an event from happening.
Jordyn Gip, 22, child development major, said she usually keeps to herself in order to keep safe at De Anza.
"I'm pretty fearless," said Vivian Pride, 19, social sciences major, about how she feels around campus.
"This is such an important discussion topic that the more students, faculty and staff that get involved and give up that 50 minutes of their day," Thurber said. "It's so empowering. It can help them out everywhere."
Thurber said the usual turnout can be up to three people, covering only 2-3% of the Foothill-De Anza population.
Thurber said those students or faculty that could not make the training should take the time to watch their video and think about safety.
"Lack a situational awareness and you are in deep danger," he said. "You have to be aware of everything."