De Anza's flourishing Photography Department

3

min read
The De Anza College Photography Department has proved to be a strong division with high enrollment and award-winning students.
Creative Arts Department Dean Daniel Smith, one of the individuals who oversees the photography department, said that the free courses have contributed to the department's popularity. 
"Enrollment has been improved by the addition of noncredit courses in photography," Smith said. "Offering courses at no cost to the students has helped people refresh their skills and (has) offered hands-on training to those who couldn't do so when courses had to be fully online during the pandemic." 
A particular moment that Smith is proud of is centered around part-time De Anza photography professor Lisa Teng. She attended De Anza as a student and later went on to earn her Master of Fine Arts degree at San Jose State University before returning to De Anza's campus as an instructor. 
Some of Professor Teng's photos are currently displayed in the school's library.
"This is now my sixth year teaching photography classes at De Anza. Ten years ago, I was a student here," Teng said. "I was taking photo classes for fun but at the time they had some limitations for students, so I couldn't take any classes anymore."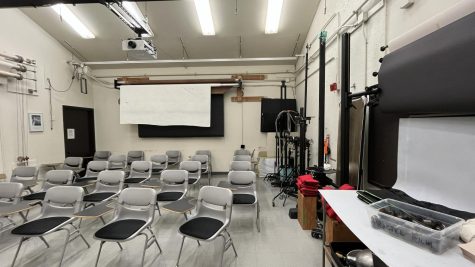 A challenge that Teng faces is with the facilities that her classes are held in. The classrooms are used for both lectures and studio space, meaning students must move all of the chairs and desks out of the way to make room for projects. 
Smith brought up another issue regarding the lack of full-time instructors in the photography department. 
"Two have retired in the last decade but weren't replaced. The last one retired in June of 2019, so it's been almost four years," Smith said. "A full-time instructor would be able to help create new classes that bring in new technology, and have more time to help students. It's remarkable what the part-time instructors and the full-time staff members have achieved, but it's the largest department in the division without a full-time faculty member." 
Even with the current challenges, students have still proven to be successful. Photography student William Gardner, 21, computer science major, was able to earn a drone license to help with aerial photography within the department.
"I'm helping students with lab work, printing in the digital classes, a lot of tech support and basically helping with Photoshop, that kind of thing," Gardner said. "I'm also working toward a film and digital photography certificate." 
Gardner's success is mirrored by De Anza alumnus Ryan Jacobs, who earned two awards from the 2022 Palo Alto Camera Club and the 2023 Palo Alto Camera Club Group Show. In addition, Jacobs was also given an award from the Harvey Milk Photo Center in 2019.
The students and faculty in the photography department have brought success and achievements to De Anza and department heads believe the division will continue to flourish post-pandemic.