Early season loss for De Anza's baseball team against Solano College
Reva Shah, Freelance Reporter
February 23, 2023
De Anza College baseball lost 9-6 against Solano College in the ninth game of its season on Feb. 16.
The Mountain Lions started with several hits, but the Solano Bulldogs quickly overtook them by the end of the first inning, helping secure the win with this early lead. 
Third baseman William Merriot, 20, business administration major, said he thought this game will help in the future.
"We could've done better, but it's going to help us," Merriot said. "This will help us in the upcoming games."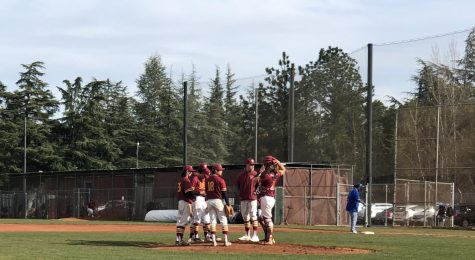 There were many hits from both teams – 14 from Solano and eight from De Anza – including left fielder Minjae Kim's hit which nearly missed as a home run.
Solano took several stolen bases and had two home runs. Despite Solano's competitive offense, De Anza's pitching kept the Bulldogs within reach with pitcher Joshua Pedronan striking out three players and Nehemiah House striking out one player from Solano. 
House, 20, business administration major, said when it comes to tough teams like this one, his team "just wants to play baseball."
"We don't really care about the other teams or how hard they are," House said. "We just play our game, and I believe this was a good learning lesson for the next game."
In the last inning, De Anza came together on the mound with head coach Don Wakins to strategize. The team decided to surrender, allowing Solano's pitcher to strike each batter out. 
The Mountain Lions have a 4-6 record and have 27 games remaining this season. The team's next matchup is Feb. 25 at Napa Valley College.