Men's soccer coaches hit 100 career wins
The tactical, precise game-planning of head coach Mark Johnson blends with the fiery passion from assistant coach Roheet Sen to create De Anza College's highly successful men's soccer program.
Johnson and Sen, commonly referred to as "Rusty" and "Roh," have been with the men's soccer program since 2013, officially becoming the head and assistant coaches in 2014. The team's recent win against Cabrillo College on Oct. 14 marks a grand total of 100 career wins for the duo.
Dean of Athletics and Physical Education Eric Mendoza has been working with the two since 2019. 
"It didn't take long for me to realize Rusty and Roheet are one of the top coaching duos in the state," Mendoza said.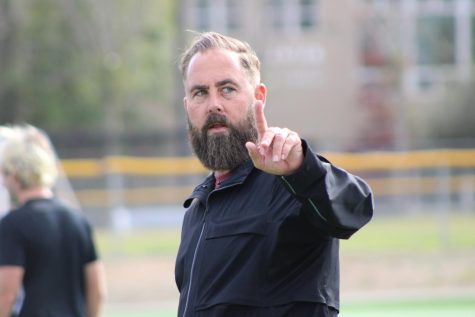 He attributes the mass success to the "countless hours of hard work and dedication that they provide," as well as the way the two coaches' teaching styles work together. 
"A good assistant, in my opinion, is someone who is kind of the yin to your yang," Johnson said. 
Sen agrees that he creates a balance with Johnson, acting as his yin.
"We're totally yin and yang," Sen said. "We clash a lot and we're totally different but because we see the game through such different perspectives, there's this balance on the field that creates that success."
This harsh contrast in coaching styles is not something that is only noticed by the coaches alone. The question, "how do their coaching styles compare to each other?" was asked to each interviewee and, without fail, an impulsive laugh or an exasperated sigh was the immediate response.
Nolan Grieve, 20, kinesiology major, is one of the soccer captains for this season. He said he laughed at the question because "Rusty and Roh" are "complete opposites," making it almost comical to try to find similarities between the two. 
"They couldn't be any more different," Grieve said. "Rusty is very calm and collected and keeps a level head most of the time. Roheet is more of the emotion of the team — he helps get us fired up for games and gets us going in practices."
Being "yin and yang" creates a level of balance and harmony at times, but it also can result in clashing opinions over how to approach certain situations regarding the team. 
"We are constantly at each other's necks," Sen said. "Rusty will agree that we fight every damn day, but we've become best friends off the field. Our bond and honesty toward each other translates into how we treat our players and I think that's a big part of why we've been so strong."
Edgar Benitez is a De Anza alumnus who played under Johnson and Sen from 2014 to 2016. He said the two coaches' soccer experience prior to joining De Anza's staff drastically heightens the knowledge and empathy they are able to bring to the field.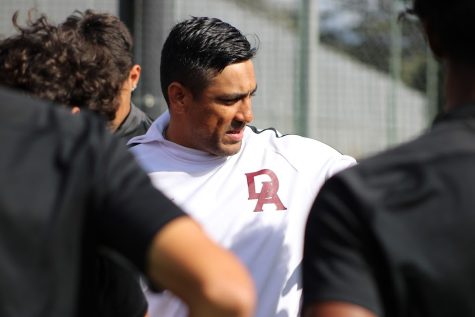 "Their careers before coming to De Anza is what makes players excited and passionate about playing under such a respected and highly revered staff," Benitez said. 
Johnson was Santa Clara University's goalkeeper and later became a vital part of the university's coaching staff in the early 2000s, along with coaching club teams up until this past year. Sen played for De Anza in 2006 and 2007, later coaching club teams for the San Jose Earthquakes Youth programs and currently coaches at De Anza Force. 
Cesar Cornejo, 20, kinesiology major and another current captain of the team, said their personal experience with soccer has created a highly respected and admired reputation among coaches and players alike. 
"A lot more people from other cities that aren't even close to here are actually commuting every day just to come play at De Anza under their coaching," Cornejo said. "They've gained a lot of respect from other programs and it shows."
When Johnson and Sen took over the men's soccer program in 2014, they immediately proved their worth due to the highly successful 2014, 2015 and 2016 seasons. However, Sen said that despite the high level of success, he and Johnson were unable to be fully satisfied due to the type of men they had brought into the program. 
"After a few seasons, he and I made a commitment to start recruiting a certain type of person that our program was lacking," Sen said. "Someone honest, hardworking and someone who has that ethical code that'll make our program well-rounded in all aspects, not just soccer."
This pledge to recruit good men instead of solely seeking talent turned out to be a monumental change for the De Anza soccer program. 
"We made that change and commitment to focus on the people behind the game, not just their skill level," Johnson said. "That's been the key factor in unlocking that high level of accomplishment and achievement the program has produced."
Both players and co-workers of the two said this method of recruitment is definitely a factor of what sets Johnson and Sen apart from other coaches, but the most defining element is the trust and loyalty they build within their program.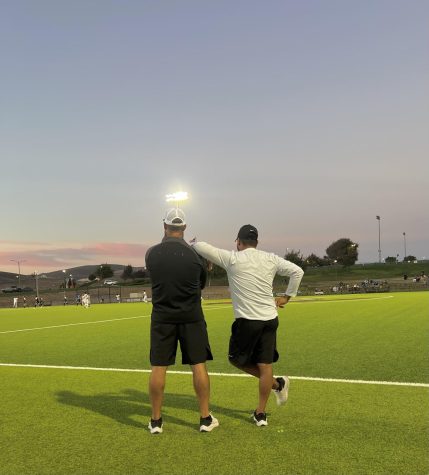 Daniel Galvan, another De Anza alumnus and previous soccer captain from the 2014 to 2016 seasons, said the relationship built with the coaches, both individually and as a duo, is what sticks out most when looking back at his career with them. 
"It's definitely a family," Galvan said. "The understanding and commitment they show towards their players makes that environment feel like its own little family and you don't get that with other programs." 
Benitez agreed with Galvan and said throughout his soccer career in various teams, nothing has been like the coaching at De Anza. 
"I've played with a lot of high-level clubs and schools," Benitez said. "But not once did I ever feel that same level of authenticity and intimacy that I shared with those two." 
Sen said that he is well-aware of his high-emotion and intense reputation that often manifests through anger or yelling, but despite any frustration he feels on the field, at the end of the day all he feels is admiration and pride towards his players.
"When all is said and done at the end of the season, you see this group of 30 young men — loads of testosterone and passion and all of that 'manly' stuff — you see them teary-eyed and emotional because that's the last time we'll all be together," Sen said. "That relationship that we create with our boys is something I will always be proud of."
A great deal of empathy, understanding and trust from Johnson and Sen is what forms these close-knit connections that their athletes, both current and past, admire. Through this, the intentions of the coaches are made explicit to everyone that witnesses the interactions between them and their players. 
"There's so much more they put into this program beyond soccer," Mendoza said. "Whether it's making sure their players are doing well academically and making adjustments based on their home lives or schedules — at the end of the day, the betterment of their men is their top priority."
De Anza's athletic trainer, David Kobata, has worked with the two for over five years.
"It's clear that both of them are always looking out for the welfare of their student athletes," Kobata said. "No matter what, they are always looking for ways to help the players be successful on the field as well as off. That off-the-field commitment is what makes them such exemplary coaches and men."
Johnson and Sen both expressed their gratitude and pride towards reaching this 100 career win achievement, but emphasized the fact that their players are the ones who made it possible. This accomplishment sheds light onto the success generated out on the soccer field, but the steps taken by their players off the field are what the coaches are most proud of.
"We want our guys to know we're here to help them," Johnson said. "Sometimes we let them know that through tough love, sometimes we're more relaxed about it, but either way I want them to know Roh and I will always be in their corner wanting them to succeed no matter what."