Men's soccer comes out with a victory against Santa Rosa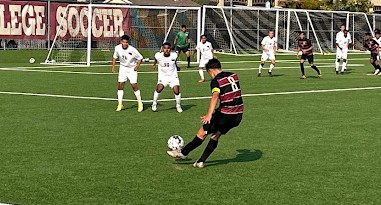 De Anza men's soccer team came up with a victory this past Friday against the Santa Rosa Bear Cubs with a score of 1-0.
De Anza struggled the first 10 minutes, but were able to find their rhythm and get themselves to a record of 5-1-1 on the season.
In the 61st minute, goalie Julian Escobar made a save that allowed De Anza to counter and score a goal in the 62nd minute. 
Rusty Johnson, head coach, said following the game that the plan they came in with allowed them to put in the goal.
"This week we worked on executing a game plan where our outside forwards kind of tuck in to attract the defense then isolate outside which is exactly how Zach got isolated," Johnson said.
Zachary Addison, right wing, scored the goal that put De Anza ahead and said the team saw something at halftime that would give him an advantage.
"Today we saw lots of space in the back, particularly against the outside back who was a little bit slow," Addison said. "At halftime, we talked about exploiting that space behind (the defense) because we knew I was faster than him."
He also pulled out a backflip celebration after, feeling it was the right game.
"I've been holding that in for so long and I only really wanted to do that in a close game because you can't do that kind of stuff when you're up big," Addison said. "My coaches gave me a role that I'm happy with and I'm just glad they had the confidence to play me in those minutes."
Nolan Grieve, defender, said that they had some miscommunication on a couple of plays after the goal, but were able to stop the Cubs and come away with the win.
"We got a good goal in there and then we sort of just fell asleep for a minute and we didn't get everyone to drop back," Grieve said.
De Anza is set to take on the top team in the league, Hartnell College, who are undefeated this season. The game will be 4 p.m. Tuesday at De Anza.