Track and field team optimistic going into final meets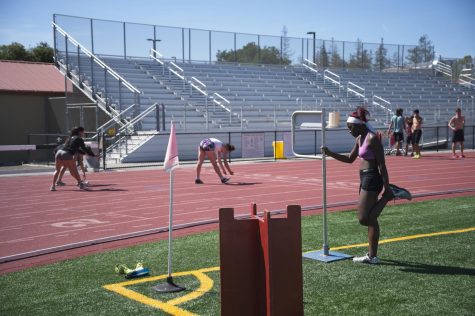 Thomas Anthony
Poor weather, sickness and injury could not keep the De Anza College men's and women's track and field teams down this season, as both teams said they are looking forward to competing in the Coast Conference Championships.
Head coach Nick Mattis said the season has been progressing well, despite the problems the teams have experienced.
"The girls have only been beaten by one junior college team all year in a meet," said Mattis. "The guys have been consist among the top junior colleges in Northern California, even with all the adversity we've had."
Though the team was not at full strength throughout the season, Mattis said the players' depth of talent allowed the team to consistently succeed.
"For the women, the 400 hurdlers are really good," Mattis said. "All four of them are ranked in the top eight in northern California and in the top 15 in the state."
The men's team scored high points in 800 meter races, said Mattis.
Thrower Melissa Favorite, 19, political science major, is ranked number one in the state in discus and number three in the hammer throw.
Decathlete Dylan Bouzigues, 19, animal science major, became De Anza's first Northern California decathlon champion since 1979 after winning at the Northern California Decathlon Championships on April 16-17.
His score of 6200 at the Hornet Invite at California State University on March 16 set a new school record.
Mattis said he is hopeful going in to the Coast Conference Championships, which De Anza will host on April 24 and 27.
"I think we're in the mix for a championship, but we have to do everything right and have no mistakes," said Mattis.
Sprinter Samantha Bell, 18, mathematics major, said she expected all her teammates to set personal records.
Bouzigues said he is hopeful for a successful end to the season after improving his decathlon score by 500 points since last year.
He said athletes still have time to improve before the last meets of the season.
"There's still a lot of work to be done, and I'm still trying to improve," said Bouzigues. "There's always more that I can improve on."