Men's basketball conclude season with a bang
De Anza College's men's basketball team closed their season with a 93-89 win over Hartnell College Feb. 22, improving the Dons' final record to 17-11.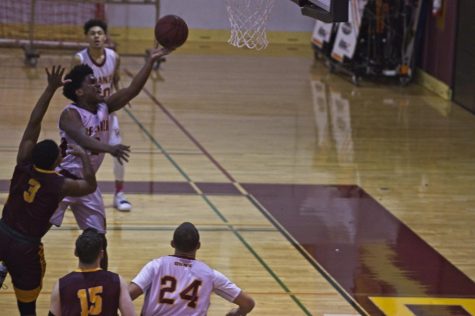 The starters contributed a hefty 79 points, led by forward Ajay Singh, 20, finance major, who ended the game with 29 points himself.
Point guard Darien Davis, 20, communications major, contributed 25 points, while also making some huge buckets from beyond the three-point arc.
"This was my last game at De Anza so I just wanted to make it special," said Davis. "When we were trying to work our hardest as a team, we went man-to-man defense so that was just our goal – to switch everything and make it hard for them to run their offense."
In the second half, Hartnell threatened to unravel the good work put in by the Dons the first half by halving a 20 point lead, a recurring theme this season for De Anza.
However, they managed to pull through this time with strong defense and contributions from their bench.
"It was good teamwork on defense, we got stops, which led to easy baskets on offense," said Singh. "And then from there, we just kept on making a run."
Head coach Jason Damjanovic was quick to acknowledge the bench players for the result, praising their holistic contributions.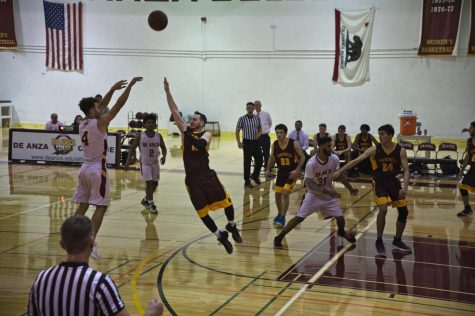 "A lot of bench players played really big minutes for us and contributed not just by scoring but in a lot of different ways," Damjanovic said.
Overall, Damjanovic said he was content with the result and performances all around as the Dons end off their season on a high.
"Not too many teams get to finish the season with a win and we got that so it's pretty sweet. It beats the alternative," Damjanovic said. "I'm just proud of our effort. We had every right not to come out and play hard given our season record, and I give these guys all the credit, they deserve to win."
Forward Ajay Singh is named to the All-Conference First Team and point guard Darien Davis is named to the All-Conference Second Team, while freshman guard Dominic Simpkins, 18, communications major, has been given an honorable mention.