The new faces of De Anza Football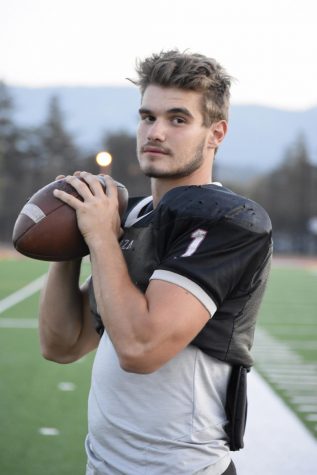 The De Anza College football team looks to the fall 2018 season with confidence. Less than a month into the season, the Dons have a win-loss record of 3-1 following a 29-0 home game victory against Gavilan College on September 15.
Head Coach Tony Santos says that team dynamics are promising, "I think the sky's the limit. We are very competitive. Our freshmen are great."
Assistant Head Coach Aidan Campion echoed this, saying that teammates mesh well and have refined their fundamentals over the past week. Two new players, Nicolas Messmer and Cortlandt Brooks, have found a new home and promise for the future on the De Anza football team. 
Nicolas Messmer, 21-year-old, quarterback, came from Switzerland to De Anza College, a new team in a new nation. He has been playing football since age 13 and decided to come to the United States to improve his skills and learn more about the sport where it all started.                  
He won the 2016 Swiss championship undefeated with his team the Basel Gladiators.            
Football for him helps you grow and build a brotherhood as a team to be more connected and think about every movement as a group.
"Football is a sport where you really need to be a family, because you have to act and react to the game every time and think of what you are doing and it is a real challenge," Messmer said.                       
Another challenge he is facing is living by himself for the first time, but Messmer see's it as an opportunity to grow and learn more about himself.
"I feel that I'm growing right now, and everybody can see that I've changed during these two months here."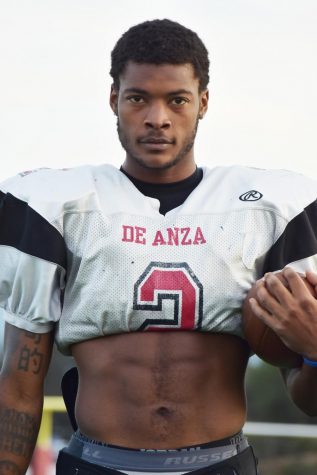 Wide receiver Cortlandt Brooks came to De Anza from Fort Worth, Texas striving for his dream of playing football professionally. It's the sport he is passionate about and doesn't see himself doing anything else.
"Football has given me sense in life like I belong here; a purpose in life," Brooks said.                       
Brooks started playing football as a child, but got serious about it during his sophomore of high school, when he committed playing with the team and found his path in life.
"If it wasn't for football…I can't see myself doing anything else." From the sport, he has learned how to be a committed, decisive leader while working towards a shared goal.
"We are a family, we have to be together to make it happen, they are all my brothers," Brooks said.