De Anza College volleyball co-captain, Anna Craig, inspires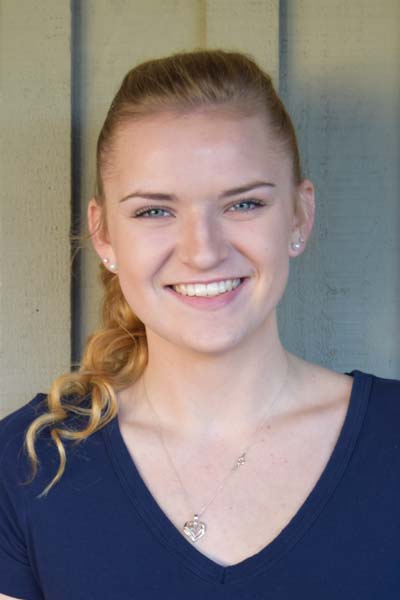 A co-captain of the De Anza College volleyball team, Anna Craig has played volleyball since seventh grade, after switching her focus from basketball.
When she first started playing volleyball, Craig said she wasn't very good. However, after improving in eighth grade, she made varsity her freshman year at Pioneer High School.
Craig hasn't had any major injuries aside from sprained ankles, but she said she'd hit a rough spot earlier in this season.
"[This season] was a difficult part for me, but … I'm a Christian and my faith is a huge part of me. And I realized that I had kinda dropped off a little bit with my faith, and that was one of the main reasons why I love playing," said Craig. "I feel like because I dropped off in my faith earlier in this season I noticed a huge change in how I was playing."
Before she played volleyball at Pioneer High, Craig attended Los Gatos Christian School. Her mother, Gretchen Craig, said she sent her four kids to a Christian school to support their faith.
"A faith in God is primary, which is why we chose to sacrifice not having a really nice home to put four kids through Los Gatos Christian," said Gretchen Craig.
Anna Craig said she doesn't regret any part of her schooling. She enjoyed her time at Los Gatos christian, and said that the students and faculty became like family to her.
"Both of them were great experiences," she said.
Leaving Los Gatos Christian School to Pioneer High did not reduce Craig's devoutness.
"[Pioneer] actually ended up strengthening my faith even more," said Craig. "[It made] me stronger in who I am, and hold tight to to what I believe in, specifically," Creig said. "And be okay with with other people believing in different things, because that's life. People believe in different things and that's totally fine."
Craig is currently majoring in communications, and will be transferring by the Fall of next year, potentially with the possibility of playing for a four year college.
Outside of her sport, Craig works for a catering company, and as a part time nanny. She enjoys photography, hiking, social interactions, events, dancing, singing, makeup, and hair styling. She's even done photography for senior portraits, and makeup for weddings.
Her mother, Gretchen Craig, is the ninth child of ten, giving Anna Craig a very large extended family, in addition to her father's three siblings, and her cousins, and even second cousins. But Craig's immediate family is two younger brothers and an older sister.
She noted that she's very close to her two brothers.
"We share a lot of things together, we go on a lot of adventures and just do random stupid stuff. But you know, I love them and they're very close to me."
Those close to Anna have nothing but kind things to say about her. Kendra Risser has been friends with Craig since they were four years old, and only lived two doors down from Craig.
"I could just talk for a long time about how wonderful she is," said Risser. "She just really radiates joy and dedication."
"She's very inspirational and she's more about the people and the team than she is about herself," Gretchen Craig said.