De Anza alum keeps giving back to P.E.

3

min read
Former tennis coach turned dean handles huge responsibility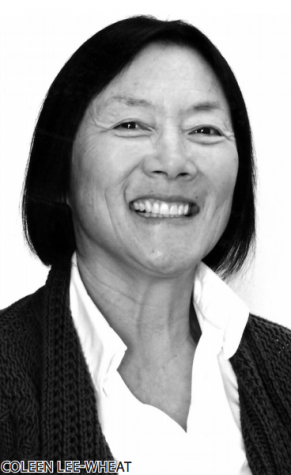 Dean of athletics and physical education Coleen Lee-Wheat spent most of her adult life around De Anza. Working her way up from the bottom to the position she is in now.
When she first came to De Anza, she didn't know what she wanted to do with her life. "I was just kind of floating around," Lee-Wheat said. "I was taking different classes, trying to find something I liked."
Lee-Wheat played on De Anza's first women's tennis team in 1973, first coached by Larke Pifferini, who was then replaced by Sylvia Hooks.
Hooks was an inspiration to Lee-Wheat.
"In my second year at De Anza, I wanted to do what she was doing," Lee-Wheat said. Lee-Wheat graduated with.
Lee-Wheat graduated with an associate's degree in physical education. Then she transferred to UCLA, where she studied kinesiology.
"It's the science of movement," Lee-Wheat said. "I thought it was very interesting to learn how the human body moves."
While at UCLA Lee-Wheat also studied athletic training, allowing her to work as an athletic trainer for the track team.
During this time, Coleen began to learn about new alternative medicines that were being utilized in the physical therapy field, including acupuncture and chiropractics.
"Acupuncture hurts the first time," Lee-Wheat said. "But it really helps relieve tension in your body."
Hooks wanted Lee-Wheat to come back to De Anza to be an athletic trainer for the school.
So Lee-Wheat accepted her offer and began to work parttime at De Anza as a physical education instructor while also working at Any Mountain.
"Back then I was making minimum wage which was two dollars and 10 cents an hour," Lee-Wheat said.
Lee-Wheat went on to become a full-time division assistant and women's tennis coach at Foothill College.
"That was my first full-time job at the college," she said. "I was very excited to finally get it."
While working full time at Foothill College she studied for her master's degree at CSU Hayward, now known as East Bay.
After completing her master's degree at Hayward, she was offered a job at Riverside Community College down in Los Angeles in 1989. She worked as a tennis coach at Riverside for a year before Sylvia Hook offered her a position as a full-time physical education instructor at De Anza in 1990.
Hook retired leaving LeeWheat to coach men's and women's tennis.
She coached men's tennis for three years and women's tennis for 14. Coleen has also taught introduction to care of athletic injuries, massage, tai chi and physical education at De Anza. When she had spent long enough coaching tennis, she decided to set her sights elsewhere.
"I wanted to see what else I could do," Lee-Wheat said.
Lee-Wheat went on to become the Student Learning Objectives coordinator and later the Academic Senate vice president.
When Rick Shroeder retired as the dean in 2013, Lee-Wheat was appointed to take her place.
"I hadn't been expecting that," Lee-Wheat said, "It was a huge responsibility."