Yes we Canha!
You have probably heard of star quarterback Tom Brady from San Mateo and former Olympian Kristi Yamaguchi who grew up in Fremont, but have you heard about current Oakland Athletics' utility player Mark Canha? Didn't think so.
Canha said he grew up playing in the streets of his neighborhood in San Jose. He said that is how he learned to play the game.
"A tennis ball and a baseball bat – we played every day in the summer." Canha said ina phone interview.
Canha grew up and went to Bellarmine College Preparatory in San Jose. Growing up Canha was a San Francisco Giants fan.
"My favorite Giants player to watch was Barry Bonds," Canha said.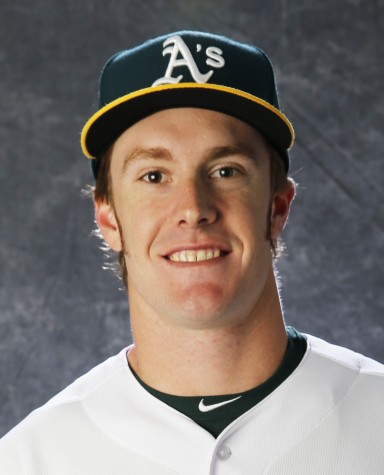 After a stand out career with Bellarmine, he received a scholarship to play baseball at UC Berkley.
"We had the great coach Gary Cunningham," Canha said. "We did a lot of great things there. We won a couple of WCAL championships and two CCS championships."
After two years, Canha decided to enter his name in the 2010 Major League Baseball Draft.
In the seventh round, with the 227th pick, the Florida Marlins selected him and he played five seasons of minor league baseball.
In the 2014 Rule 5 draft, a draft that recycles talent to other teams in need of a current player or position, the Colorado Rockies chose him, then traded him to the Athletics before he ever played a game.
"The minor leagues is not an easy place. You have to be patient," Canha said. "I did my best and I always worked hard with this goal. It was all worth it. I'm having the time of my life right now. I'm living my dream."
Because of Rule 5 regulations, for the 2015 regular season, Canha must stay on Oakland's 25-man roster or be offered back to the Marlins for $25,000.
He had three hits and four RBI's in his debut.
"The fans are so good. They care so much about their team. That's really all you can ask for. I've gotten so much support from the fans," Canha said. "The Coliseum is – I don't care what people say about it – it may not be the nicest, newest facility in the baseball world but it's got its own charm. It feels like home. I love it."
Mark Canha may be next in a long line of great Bay Area Athletes.