Player Profile: Sophomore co-captain Madlyn Kelly

2

min read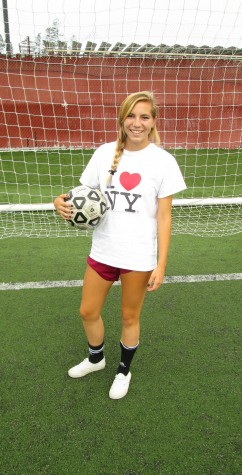 Two and a half hours of practicing in the searing afternoon sun and the De Anza College women's soccer team is still agile on the field. Team captain Madlyn Kelly's aggressive defense stands out.
Kelly, 18 in both age and jersey number, is one of only four sophomore players on the team. She is passionate about her place on the team, but there are valuable components to her life other than soccer
and school.
"I really love art … I draw, I paint, all that stuff," said Kelly, who surprisingly has little trouble making time for her multiple passions this quarter.
"I still have time for art," Kelly said. "It's my second year, so I kind of know how to manage my time a little better."
Kelly said she has grown as an artist and a center defender since last year and has seen growth within the team as well.
"We started out rough both years, but we picked it up a lot faster this season," Kelly said.
"I make sure we are working hard. I provide some reinforcement when things are looking down," she said of her duties as captain.
Co-captain Cassie Polini said she has noticed an improvement in Kelly this year.
"She has stepped it up as a leader on and off the field … she motivates me to be as positive as I can be," Polini said.
Head coach Cheryl Owiesny also praised Kelly's growth as an athlete and a leader.
Kelly entered last season with an injury that she was rehabilitating, which kept her out of the first couple games. Owiesny said she witnessed Kelly's patient persistence during that time and realized her potential.
"She was chosen to be a captain because of her consistency, confidence and leadership skills," Owiesny said. "She's a good player."
As a coach with uplifting and challenging teaching methods, Owiesny looks for captains that have similar leadership approaches.
Kelly said she plans to transfer to a four-year college after this year. Her prospective transfer schools are CSU Chico, UC Santa Cruz and Colorado State University.
Coach Owiesny foresees Kelly continuing to do a good job once she transfers.
"We just got to find the right place for her," Owiesny said.