2014 De Anza student athletes' 4-year destinations around the U.S.

2

min read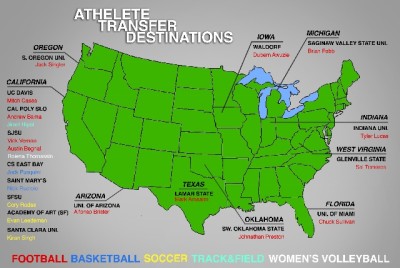 De Anza student athletes plan to transfer to universities across the U.S., everywhere from San Jose State to the University of Miami. Wherever the athletes go, they will share the memory of having played for the Dons.
Football player and winner of the male scholar-athlete of the year scholarship Mitch Casas is already attending UC-Davis and will play safety for the football team in the fall.
"I learned a lot at De Anza both academically and athletically," Casas wrote in an email. "I was able to compete at a high level of athletics that has prepared me well for my experience now."
Track and field athlete and runner-up for male scholar-athlete of the year Jirael Hipol will be transferring to California Polytechnic, San Luis Obispo. Hipol said he plans to walk on to the track team and compete in the long jump and triple jump events.
"I am going to miss my track teammates and coaches because I've spent most of my two years with them and we've grown really close," Hipol wrote in an email.
The two female scholar-athletes of the year, badminton player Pinky Li and tennis player Pauline Germaux, plan to transfer after next year because they need to finish lower division requirements, athletic academic adviser Matt Trosper wrote in an email.
Women's volleyball athlete Rolena Thomassin plans to transfer to San Jose State and said she may play for a club volleyball team while there.
Thomassin said what she will miss about being at De Anza are the people in athletics, the food, student services and cheap movie tickets.
Men's soccer athlete Cory Rodas plans to transfer to San Francisco State University where he said he expects to play center back for the soccer team.
Rodas, originally from Pennsylvania, said he learned how to connect with others who look different from him at De Anza.
As for his advice to other student athletes, Rodas said, "Go to class."
The transferring De Anza athletes all expressed gratitude towards the athletic staff at De Anza.
"Coach [Guevarra] taught me so much," Thomassin said. "She really brought up my game."
Casas expressed a similar appreciation for the athletic staff.
"I really liked the coaches and staff at De Anza," he wrote in an email. "They were always helpful in making me better along with helping me transfer to a four-year university."
Hipol said he is going to miss his track teammates and coaches along with athletic trainers Shannon Bracy and Steve Williams.
"They have helped me greatly in the healing and strengthening of my hamstring," Hipol wrote in an email. "If it weren't for them, I wouldn't  have gotten better in the time that I needed to and probably wouldn't have been able to finish off the season."