Kerr a step in right direction for Warriors

3

min read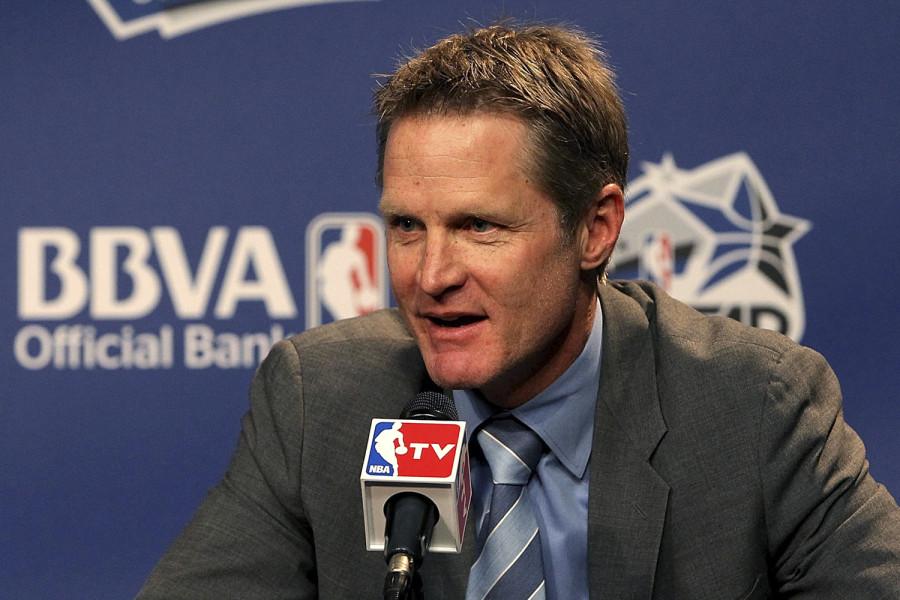 On Tuesday, May 20, the Golden State Warriors introduced Steve Kerr as their new head coach. This came two weeks after the controversial firing of Mark Jackson, who led the Warriors to a record of 121-109 in his three-year tenure.
Because many Warrior fans liked and supported Jackson, the move by owner Joe Lacob has come under a lot of scrutiny. Despite the backlash, Lacob made the right decision to fire Jackson, and he landed a gem in Kerr.
At a glance, the similarities between Kerr and Jackson are alarming. Both are former players, former TV analysts for TNT, and neither had much coaching experience before taking the coaching job with the Warriors.
While these similarities raise questions about Lacob's decision, Kerr is superior to Jackson in every way.
Little seeds of doubt about Jackson had been popping up for the past three years including his blackmail incident with a stripper and the firings of assistant coaches Brian Scalabrine and Darren Erman. These are not the type of distractions the players want to deal with while trying to make the playoffs and win a championship.
Despite claims that Jackson's race or religious devotion played a role in his firing, he was ultimately fired because he constantly butted heads with Lacob. Jackson's "us versus them" motivational tactic worked for the players, but Lacob took issue when it started to make him out as the enemy.
Kerr's cordial relationship with Lacob was a major factor in Kerr's decision to turn down the New York Knicks head coaching vacancy. The continuity between the two men helped Lacob's decision to pursue Kerr as his number one option to replace Jackson.
The main difference between Kerr and Jackson; Kerr is often over-prepared, whereas Jackson seemed under-prepared in his three-year stretch as coach. Jackson even admitted in a radio interview with KNBR 680 that he thinks preparation is overrated. Lacob was reportedly impressed when Kerr brought a detailed 16-page document to his interview with the Warriors.
Jackson often allowed the Warriors to fall into an offensive rut during games because he refused to make lineup adjustments or tweak the offensive game plan. Only time will tell if Kerr will be more flexible with these aspects of the game, but it is hard to believe that he could be any less flexible than Jackson.
Although Kerr hasn't had any experience as a head coach, he was the general manager of the Phoenix Suns from 2007 to 2010. The Suns' record during that stretch was 155 wins and 91 losses. Kerr stepped down after the 2010 season despite building a team that made a run to the conference finals.
Kerr said he stepped down because he wanted to spend more time with his family in San Diego, according to a story on ESPN.com. Luckily for the Warriors, being close to his family factored into his decision to turn down the Knicks' job and accept the position with the Warriors.
Kerr said he plans to implement elements of the triangle offense while still using Stephen Curry for pick-and-rolls. This is a welcome change to the offense that often stalled when Curry wasn't running the show.
As a former shooting guard, Kerr's offensive game plans should not be an issue, but it remains to be seen if he will maintain the high-level of defense that Jackson nurtured.
The decision to fire Jackson and hire Kerr exemplifies Lacob's urgency for the Warriors to be a title contender immediately. Jackson doesn't have what it takes to lead to Warriors to the NBA finals and Kerr does. It is as simple as that.
With rumors floating around about the Warriors seeking to acquire Kevin Love from the Minnesota Timberwolves, it is apparent Lacob and general manager Bob Myers are anxious to give the Warriors' lively and loyal fan base their first championship since 1975.