Leader of the Dons: Nate Viera

2

min read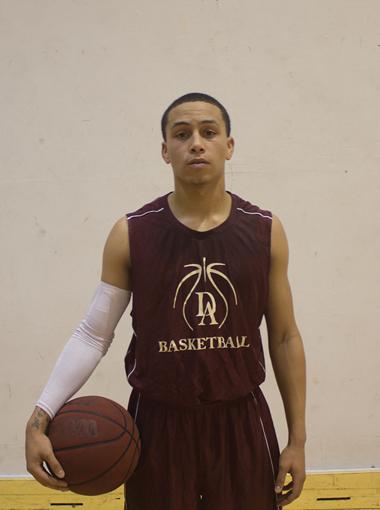 Not many basketball players can say they did gymnastics for five years. Then again, freshman point guard Nate Viera is not like many basketball players.
Viera stands 5 feet 8 inches tall and leads the De Anza College men's basketball team in scoring with 13.5 points per game. He also leads the team in assists with  five per game.
"He knows (his teammates) are open before they know," said head coach Jason Damjanovic of Viera's court vision.
Viera did gymnastics when he was younger because his dad was a gymnastics instructor. "It's a lot different, but it helped," he said. "When I have kids I'm definitely going to put them in gymnastics."
Viera first played organized basketball when he was 9, but before that he played basketball every day with his dad.
"He tried every sport with me," Viera said, "but he noticed that basketball was my thing and once I told him that I wanted to pursue that he really stuck by my side."
Nate played basketball at Oak Grove High School in San Jose from freshman year to junior year and then moved to Los Altos High School for his senior year.
"I came to De Anza because I like Coach Jason," Viera said. "I liked how straightforward he was and I liked how he gave me a lot of freedom to make my own decisions and run the team."
Outside of basketball, Nate enjoys hanging out with friends and having family get-togethers. Most of his family lives in Panama and he visits them often. In fact, he said he plans to go to Panama in the summer of 2015.
"It's a lot different," Viera said. "My cousin bought little pieces of land so we take a boat out to them. It's cool. It's like a little getaway."
Viera said he chose to major in business finance because his older sister told him it was a good program to get into. He said his dream job would be to manage a bank or be a personal agent for a basketball player.
To prepare for a game, Viera eats a meal two hours before and listens to songs by Migos, his favorite hip-hop group.
"He is a great teammate and leader. He knows how to get us fired up," said freshman guard Chris Shaw.
Viera said he is optimistic about the team's potential. "There is a lot of chemistry between us," he said. "We are just really young and we just have to connect a little more to be a great team."