Assistant coach, cop Phillip White does it all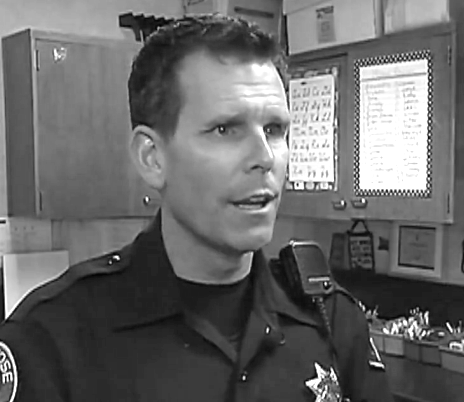 San Jose police officer by day and De Anza College men's assistant basketball coach by night, Phillip White, 45, doesn't let his busy schedule stop him from teaching preteen children life-building skills.
James Randol, captain of the San Jose Police crime prevention unit and the brain behind the Team Kids program, put White in charge of developing PowerPoints and teaching the children of Santee Elementary in San Jose a six-week curriculum four days a week. The school serves as the pilot for
the program.
"Team Kids is a program that plugs the gap where other programs have gone by the wayside because of funding and budget cuts," White said. "We include units on choice-making, peer pressure, bullying, and how to resist gangs."
Aside from work, making time for his family is a must. White has recently planned to fly to Southern California to surprise his daughter for her birthday.
Phillip has been coaching for 20 years and is in his second year coaching at De Anza. He is in his 17th year with the San Jose Police Department. His start in coaching began at James Logan High School in 1993 as an assistant coach for the freshman junior varsity team.
White knew he wanted to be a part of law enforcement early on in life and left college to become a Marine Corps military policeman. He then worked as a corrections officer at the Santa Clara jail system.
Becoming a coach wasn't his initial plan but as he grew up his love for coaching evolved. As a child, he watched his father and brother's coach different sport teams.
"I lived this unbelievable childhood, especially in this day and age," said White. "Both my parents were together my entire life and we were involved in sports and extracurricular activities."
White attributes his development as both a person and a basketball coach to his family.
Beyond wins and losses on the basketball court and arrests as a police officer, he enjoys mentoring children and seeing his players grow on the court and become smarter individuals. His goal is to become head coach of a junior college basketball team.
"Coach White was the one to recruit me to come play," said Shaquille Gilbert, 20, kinesiology major and guard on the team. "When I first met him, I was a little skeptical, but now I look up to him as both a father figure and mentor."
White plans to concentrate on field training and earn a Masters degree in coaching and athletic administration.
White's advice to the younger generation: "Keep your eyes open and free your mind from things that you think aren't going to apply to you."