De Anza College Leadership Conference speakers inspire, uplift students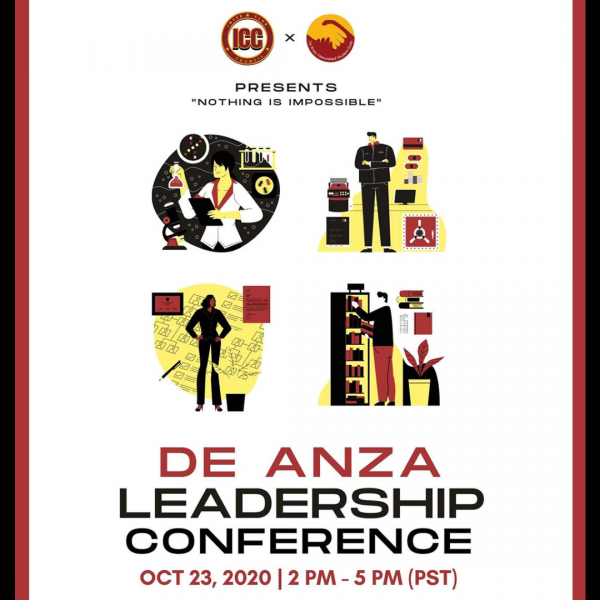 De Anza College held the ICC Leadership Conference, a Zoom Webinar event for speakers Tamara Steele, Doris Pickering and Raj Jayadev to offer leadership skills and valuable life advice to students.
The event, on Oct. 23,  began with short introductions from Manveen Kaur Anand, Inter Club Council chair of programs, and Iris Kim, DASB chair of diversity and events, who have been organizing the conference for months.
Steele, founder of EVOLVE, Global Women's Collaborative Community, covered several leadership styles, including visionary, transformational and transactional styles. She also stressed the importance of writing down students' goals.
"When you don't write down your goals, the likelihood of you following through drastically declines," Steele said. 
Steele went on to describe certain behaviors that students should incorporate into their lives, such as commitment.
"Be committed to everything you say you're going to do," Steele said. "There's 3 D's: you either do it, you drop it, or delegate it."
Steele ended her speech by offering some final thoughts on what holds people back from achieving their dreams.
"Fear holds people back," she said. "If you want to bring about change, you have to move towards that fear."
The next speaker was Silicon Valley Speaks founder Doris Pickering, who spoke about taking ownership of students' own experiences.
"As a leader, things will always go wrong, and you need to figure it out," said Pickering. "That's why you're the leader."
Pickering noted the importance of excelling at whatever it is students choose to do.
"Be the CEO of wherever you're at," she said.
Pickering closed her speech by talking about why students should remain open to all opportunities.
"Always be open to what the universe is throwing in front of you," she said. "The universe may be knocking on your door for a reason."
The final speaker, Raj Jayadev, is the co-founder of Silicon Valley DeBug, an organization that advocates for incarcerated people and attempts to transform the court system.
"We started developing these tactics that are the spirit of community organizing manifested into tangible things that could disrupt the court system," said Jayadev.
Those tactics, collectively known as participatory defense, have helped save 10,208 years of time from incarceration since DeBug's founding in 2001.
"Organizing wasn't just a romantic gesture," Jayadev said. "It had a tangible impact that led to someone's freedom."
Jayadev, a De Anza alumnus, finished with how important it is to organize from within the community and what he sees as the future of that organization.
"I see this as a molten lava time," Jayadev said. "The organizers of today are the ones that are going to define what this world looks like when that molten lava solidifies and calcifies into something that will be our new world."