DASB votes on subcommittee connecting faculty, students

2

min read
The May 30 DASB meeting resulted in the creation of a subcommittee to promote connection between faculty and students, as well as a passage of a revised 'Ban the Bottle' resolution
De Anza's Associated Student Body Senate established an ad hoc committee to plan a competition event between faculty and students on May 30.
History professor Mylinh Pham proposed forming the 'Battle of the Dragons Committee' to raise school spirit and get students and faculty to interact more with each other.
Pham said she is often  told by students that they are intimidated by their professors, so she wants to give students a different view on faculty members.
"We're human beings too," Pham said. "Don't be afraid to approach us."
DASB Senate Adviser Hyon Chu Yi-Baker proposed making the committee a subcommittee under the Diversity and Events Committee.
Senator Lawrence Su, 18, political science major, said it would be better as its own committee because having a separate meeting time will ensure proper attention.
The formation of the ad hoc committee was unanimously approved 22-0.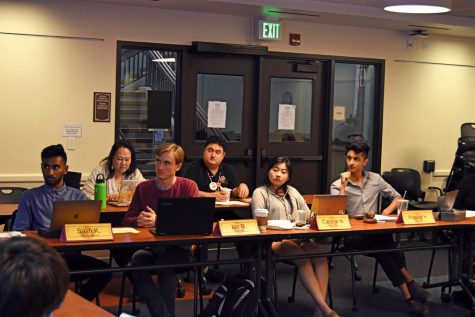 A revised version of the Ban the Bottle Resolution, authored by former DASB Senators Desiree Humphers, 21, behavioral science major, and Raphael Villagracia, 20, political science major, was endorsed by the senate.
The revision seeks De Anza's divestment from fossil fuels; it was approved 18-0 with two abstentions.
With the endorsement from the DASB senate and the Associated Students of Foothill College, there are plans to bring the resolution to the Foothill-De Anza Board of Trustees.
The senate approved allocating $250 from special allocations fund to the Environmental Sustainability Committee for reusable water bottles.
Students will sign a pledge with information about the senate, in return receiving a reusable water bottle, said Chair of Environmental Sustainability Takuto Ueda, physics major.
With the additional $250 in funding, Ueda said they will have $1,000 to purchase about 260 bottles.
The funding request was unanimously approved 20-0.
On other business, the senate made a second vote to reimburse the women's softball team $526 for meals 19-0 with two abstentions.
And the senate voted on election codes changes so incoming senators would be sworn in during the last meeting of the spring quarter 19-0 with one abstention.Deejea Smith