Downtown soul: new café builds community during lockdown

2

min read
The line stretches for half a block down South First Street in downtown San Jose where sisters Be'anka Ashaolu and Jeronica Macey opened Nirvana Soul Coffee on Sept. 26.  
Nirvana Soul has been about two years in the making from dream to reality but the sisters closed escrow on their location around the same time shelter in place orders were enacted, said Ashaolu.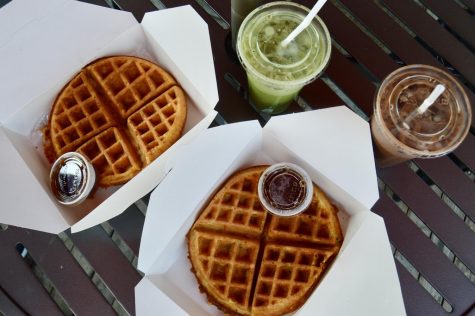 Rather than dwell on the uncertainty that opening a café during a pandemic, the sisters painted "we can do hard things" on their walls and set to build the brand identity that would bring in steady crowds every day.
This third wave coffee shop located in San Jose's SoFa district aims to be a hub for their community as a Black-owned business and as a place for local artists to highlight their art along the shop's vibrant walls. 
"We wanted this shop from the beginning to be a place of happiness and joy and hope for people, and people really showed up," said Ashaolu.  "This has been an incredible, incredible week." 
While eager patrons patiently wait in the hour plus line, they admire customers who have seated themselves in the parklet on the sidewalk to enjoy their hand-crafted coffee or tea with waffles fresh from the griddle.  
Passersby turn their heads, curious about the line and tantalizing aromas that waft from the entrance that is colored in gradient orange and pink.  
"We waited for almost two hours last weekend at the grand opening," said Alyssa Dado, 24, of San Jose, "This isn't like a typical coffee shop. There's something different about this place.  The artwork, the vibe. It's good energy all around."
As Black women business owners during Black Lives Matter, Ashaolu and Macey are inspiring a new generation.  
"There are little Black girls and boys insisting that their parents bring them to the shop," said Ashaolu. "They're so excited to see someone who looks like them doing something like this."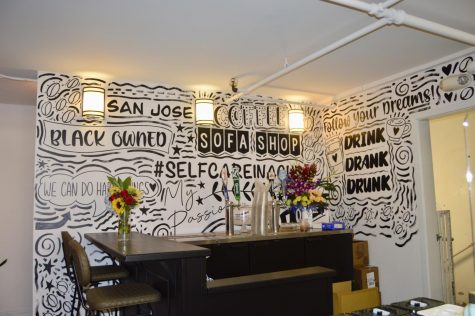 Their coffee is lovingly hand-crafted and roasted in San Jose, with each cup lovingly produced by Jeronica or one of her baristas, and it is absolutely worth the wait.