Recap of super bloom season: Preserve our floral splendor
A stunning super bloom happened this year in California thanks to the abundant amount of rain we received a few months ago.
Last winter's plentiful rainfall dropped colors on De Anza's muted campus, reviving its blossoming vigor this spring.
Superbloom is a rare botanical phenomenon when an explosion of wild flowers occurs, typically from the beginning of March to late June, followed by an unusual rainy season.
Although no blooming wildflower fields are spotted in the Cupertino area, students may still recreate aesthetic flower photoshoots or plan for graduation pictures with flowers on campus.
This year, De Anza College welcomes eight varieties of flowers in bloom, including California poppies, pink trumpet vine, scarlet firethorn, China rose, white rosa pouzinii, zonal geranium, Pacific dogwood and Barbra Streisand hybrid tea rose.
Take a self-guided tour by following the directions in the flower map to visit these beautiful floral sceneries
                                                                                                                                                                                   .
Scarlet Firethorn
At the first stop in parking lot B near the EV charging outlets (dark green flower icon on the map), you can see scarlet firethorn shrubs with clusters of tiny white flowers blooming on top of bushy dark green foliage.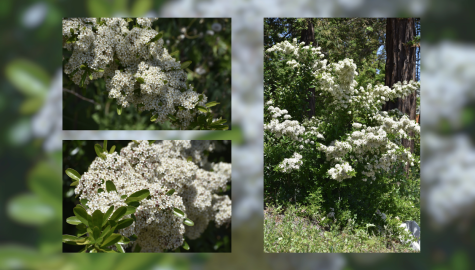 According to Wikipedia, this plant blooms in late spring to early summer, then ripens masses of vibrant red-orange berries in the fall that last well into the winter. The berries have not been shown to be toxic to animals or humans. However, it can be bitter and astringent, making it inedible when raw. The fruit can be cooked to make jellies, jams, sauces and marmalade.
China rose
Walk northeast toward the Multi Cultural Center where bushes of China roses grow in front of the entrance of room MCC 10 (gray flower icon on the map). This plant sprouts ivory-white flowers with a hint of pink on the outer petals that create a delicate scent that will make you stop what you're doing to come take a whiff.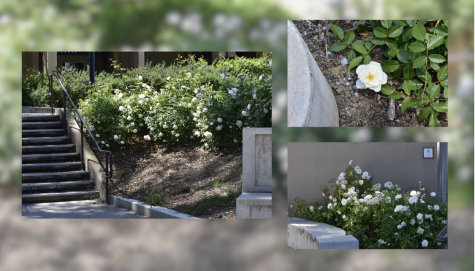 This plant blooms in the late spring and lasts through the summer and early fall. It is also known as Bengal roses since the flowers were historically used to make dye in Bengal. According to Picture This, an AI platform that identifies floral and fauna, China rose is a symbol for eternal spring and longevity in Chinese culture. 
California Poppies
Next, follow the path through the Advanced Technology Center and the F2 building until you reach a corner in front of the F1 building at the entrance to L-quad (orange flower icon on the map) that is adorned with vivid orange California poppies.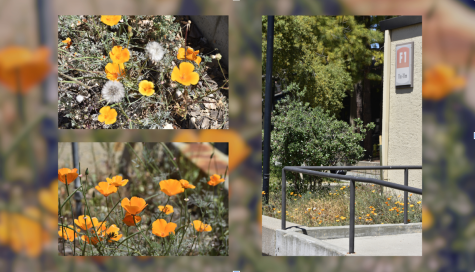 This plant is commonly seen blooming in the spring and summer. Its bright orange flowers are described as an "unmatched symbol" of the Golden State according to the California Department of Fish and Wildlife, viewed as a floral representation of the "fields of gold" sought during the gold rush and officially became the state flower of California on March 2, 1903. Because of its invasive nature, it appears almost everywhere in California, whether it's on the roadside, under highways, or around campus.
Zonal Geraniums
Continue northwest toward the right side of the A. Robert Dehart Library, facing the Sunken Garden and Flint Center (maroon flower icon on the map), three red and coral zonal geraniums are planted in concrete planters separated by benches, creating a lovely spot for students to stop in between classes.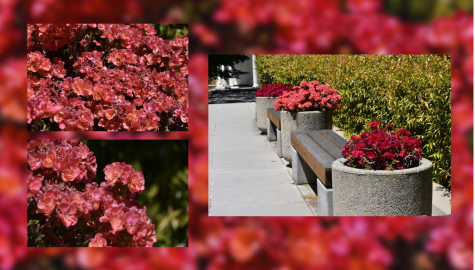 According to Picture This, this plant blooms from mid-spring to mid-summer and is found to be toxic to dogs and cats if chewed on, resulting in vomiting, diarrhea, muscle weakness, and loss of appetite; the severity varies from case to case.
Barbra Streisand Hybrid Tea Rose
Going straight downstairs from the library, De Anza's historical landmark, the California History Center (purple flower icon on the map), which has a charming outdoor space on the right side of the venue with picnic tables and Barbra Streisand Hybrid Tea Roses. If the beauty of this ravishing blossom's deep plum-ish magenta doesn't mesmerize you, its extravagant fragrance of sweet citrus notes with a hint of black tea will.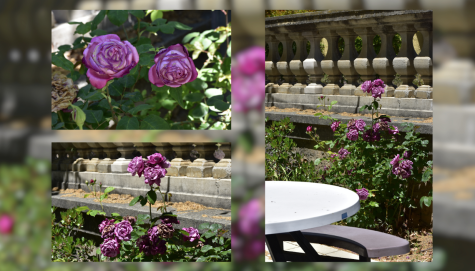 This plant blooms from late spring to mid-fall. Its flower is named after Barbra Streisand, a famous American singer and actress in the early 1960s. Tom Carruth, the rose curator at the Huntington Library, told Vanity Fair that, "She (Barbra Streisand) took a good two to three seasons to make up her mind."
White Rugosa Rose
Leaving the California History Center and turning north toward the East Cottage (yellow flower icon on the map) is where snow-white Rugosa roses are located. The flowers have yellow tufted stamens sitting atop deep green, quilted leaves.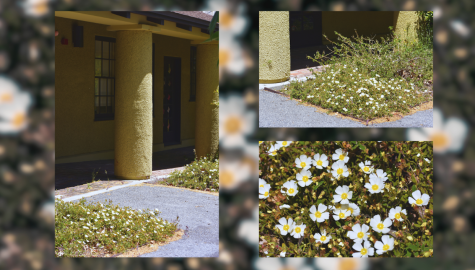 According to Picture This, this plant blooms in the summer. The flower's name, rugosa, derives from a Latin word that means wrinkled, like the plant's wrinkled leaves with a wave-like pattern.
Pacific Dogwood
Then, walk toward the Media and Learning Center and turn right along the pathway that is between the building's rear door and the Learning Center West building. In the intersection of these buildings (green flower icon on the map) are Pacific dogwood trees with dense clusters of flowers, including dull green leaves and clusters of creamy white flowers with turmeric-colored pistils.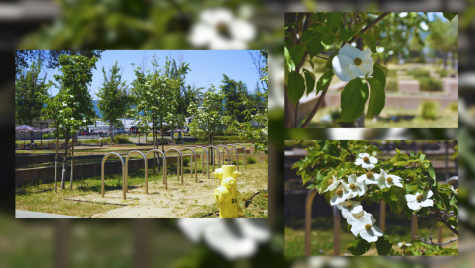 According to the United States Department of Agriculture, this tree grows in the spring and again in the fall. The plant's botanical name, cornus nuttallii, was named after Thomas Nuttall, an English botanist and zoologist who worked in the United States during the 1800s.
Pink Trumpet Vine
Retracing back to the starting point of parking lot B where a wall of blossoming pink trumpet vine lurks behind the L5 building (pink flower icon on the map). Even without fragrance, this plant's tube-shaped flowers still adore visitors with its elegant wash-off pink hue, especially the hummingbirds.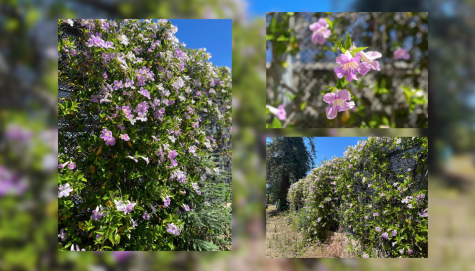 According to Picture This, this plant blooms in summer and fall. It is also known as Port St. John's creeper, where Europeans first reported the plant. Its flowers attract hummingbirds because of its high nectar reserves.
Arriving at Parking Lot B brings this flower journey to a close. Plan photoshoots now before the end of the blooming season and immerse in De Anza's vibrant spring palette.