Queer and Now Conference kicks off Pride month celebration
The De Anza Pride Center hosted its ninth annual event inviting members of the community to come together and celebrate their identities on June 6 in honor of Pride month.
The event featured keynote speaker Honey Mahogany, a San Francisco political organizer and queer activist; an open mic session for attendees to share their journeys as members of the LGBTQ+ community; and drag queen performances.  
Wren Vrabel, 19, marine biology major, said that in joining the event, they were looking forward to meeting new people and listening to their  experiences. 
"I'm interested in hearing other people's stories and seeing how they compare to my experiences because everyone has a unique experience learning about their identities," they said. "It's really interesting seeing what you can learn from other people's stories and how they can apply to you."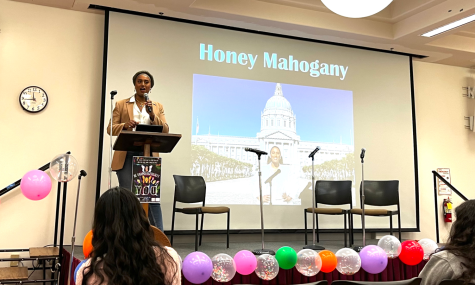 The event started off with a speech and Q and A session with guest speaker Honey Mahogany in which she talked about her roots as a child of Ethiopian immigrants and her journey coming out as a trans woman. 
Throughout her talk she said "students (and young people) are the voice of the generation," reminding attendees that there is no time like now to advocate for LGBTQ+ rights. 
The Bay Area Queer Zine Festival organizer shared the history and power of zines, which are are small hand-made magazines that could easily spread information about problems and news relevant to the community. They provided craft supplies so attendees could make their own.
Following this was an open mic session where attendees were given the opportunity to speak up and share their experiences as members of the queer community. 
Emma Vinsel, 20, sociology major, a co-host of the open mic with guest poet Asha Sudra, said that the session was open for anyone who wanted to speak on their experience as a queer member of the community.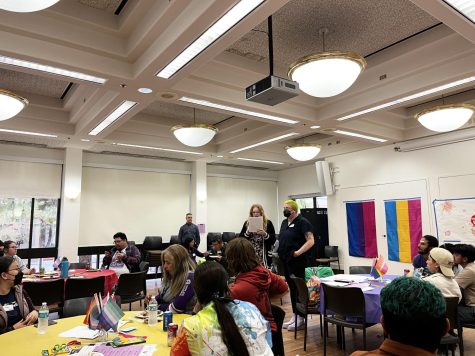 "This segment is to provide a space for folks who, if they have something to say, will be able to be loud and proud about it," she said. "We're not going to be like, 'Hey, we want you to go up there and yell, I'm gay!'", We want to provide you a (space) to show your artistic expression and link your experiences with your identity in a creative way." 
Cassie Maxwell, 19, political science major, said she didn't feel pressured to participate in the open mic herself and instead used it as an opportunity to listen to other community members.
"I'm not the type of person who wants to give a speech," Maxwell said. "(For me), even just listening and being around so many other queer people is really meaningful." 
The event concluded with special performances by several local drag queens celebrating and sharing their queerness in song and dance. 
Conference attendee Saskia Latievarya, 20, philosophy major, said that they decided to participate in this event because the community is where they feel most connected to other people. 
"I never had an LGBTQ+ community back when I was in Indonesia and Saudi Arabia," they said. "Going to De Anza was actually the first time I encountered that sense of LQBTQ+ alliance in the community and it's always nice to be around the people who understand me the most."