Coffee shop owner brings caffeinated drinks and spirit to campus
Many people never think about returning to their school after they graduate, but former De Anza student Jared Forman, the owner of Power Cup Coffee on campus, is an exception.
"Since 1998, my life has been coffee," Forman said.
Everyday, from 6 a.m. to 6 p.m., the 42-year-old serves students coffee. 
Behind a counter stacked with utensils and sugar packets, Forman steams milk and pulls shots to craft refreshingly iced and piping hot drinks.
"It's a stimulant that can alter your perception a little bit," Forman said. "But it's legal, so you can do it." 
Forman started out as a De Anza student majoring in film and art. On the side, he worked as a part-time barista outside in the L-Quad, the same coffee shop he runs in the cafeteria today.
"You could still smoke on campus back at that point, so all the smokers would come over with their cigarettes and drink coffee," he said.
Forman's roots at De Anza stretch back across multiple decades. He first visited the campus as an infant because his father used to work as a massage therapy professor. 
"I have a lot of connections to the college," he said. "My dad started a massage school on campus which has since been (discontinued). It was the one program in California where you could get an associate degree in massage (therapy) and they canceled it."
Although Forman didn't graduate from De Anza with a degree, he said he was still able to work in film. However, he said making coffee remained his true passion.
"I worked in the film industry for a while, making music videos, features, mostly independent films, but I chose to do this," he said. "It was like a dream, especially (returning to) De Anza." 
Forman became the owner of De Anza's coffee shop Power Cup Coffee in 2011. He called the shop his "bread and butter" aside from a couple odd jobs fixing espresso machines.
The now indoor, cafeteria-based shop is run by Forman and Chanel Harper, a 26-year-old former De Anza student. 
"Jared's cool to work with," Harper said. "It's a nice environment. People here are really easy going, and it's a fun, chill environment to work in."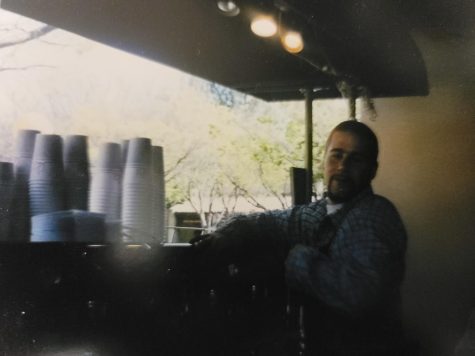 Things weren't always easy. Power Cup Coffee shut down for two and a half years because of the COVID-19 pandemic, leaving Forman without his primary source of income. 
"I had to work different jobs," he said. "I mowed lawns. I worked for a school district in Capitola where I was a cook and baker. I was at a junior high making food. You got to pay rent, right?"
Power Cup Coffee reopened in the fall 2022 quarter. He said returning to his coffee shop made him realize why in-person connection is important.
"We need that interaction between each other, which is why I feel we should be getting back on campus instead of being online," Forman said. "It's also better for business, I'm not going to lie."
Miya Torres, an occasional customer at the shop, said Forman's presence is a large part of the coffee shop's success.  
"It has a vibe like no other college campus (coffee shop)," said Torres, 19, interior design major. "(Jared) is the staple."
Arjun Chindarkar, a 22-year-old business major who has visited the shop a handful of times, said that he can tell Forman loves what he is doing.
"He has a positive energy," Chindarkar said. "You can tell that he's truly interested." 
For Forman, coffee goes beyond a passing interest or a refreshing drink. 
"I love coffee – it's love made visible," Forman said. "It's in my blood."
Keep an eye out for Power Cup Coffee, which is now serving boba!