'That '80s Laser Show' merges the old with the new
The low chitter of the audience goes silent as the room becomes a pitch-black canvas. Excited tension fills the air. Three, two, one…
A blast of color greets the eye, then a shape, a wave, all dancing harmoniously to the beat of –  yes, you heard it correctly – the B–52s', hit song "Roam". If you can for a moment pull yourself away from the tantalizing frills stretching themselves across the sky, you may ask yourself, "Am I on acid?"
Only instead, it isn't a wild hallucination, it is one of De Anza's laser shows. Sitting tilted backward for optimum viewing and listening, the Fujitsu Planetarium welcomed its newest installment, "That '80s Laser Show" on April 29.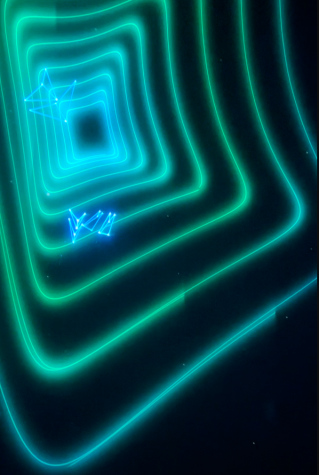 "There are people who say they used to come in the '70s and '80s to watch shows like Pink Floyd and Led Zeppelin. It's a little bit of nostalgia," Planetarium and Community Education assistant Gracy Galban said about the new theme.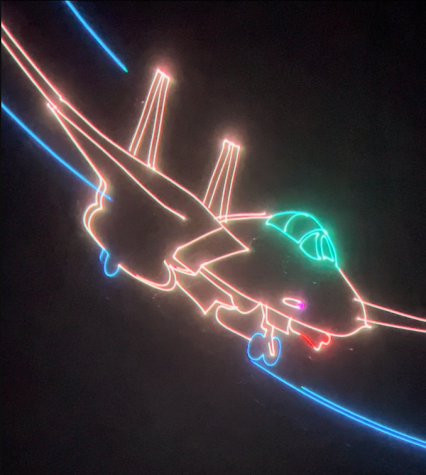 Galban, who has worked with De Anza's planetarium for five years, said she and her team chose six new shows from the catalog of Jay Heck, owner and producer of the laser company Laser Fantasy. The current rotation and additions of shows are a way to merge the old school with the new school.
"It's something different, something fun, something unique to go to that you wouldn't normally go to on a Saturday," Galban said. 
As energizing music captured the auditory senses of the crowd, characters and symbols formed across the planetarium's dome screens to satisfy the visual component. The dazzling array of kaleidoscopic lights synched with '80s classics including Madonna's "Material Girl" and Michael Jackson's "Smooth Criminal" not only danced, but told stories. 
The one hour show was filled with performances like Kenny Loggins' "Danger Zone" which stole the audience's hearts as beams morphed into pilots and fighter jets ready for takeoff. Whistles and cheers were given to Depeche Mode's "People are People" as constellations of men fighting and reconciling matched the song's lyrics.
The show was welcomed by a small crowd of about 15 viewers, with ages ranging from young to young-at-heart. With childlike observation, 7-year-old audience member Alex Kaufman found the bright lights unfathomable.
"The most interesting part was how they make all the lights. How do they make all of the lights with only three lasers?" Kaufman said.
The new show wasn't only a generational theme but a generational bridge for families.
Parents Angela and David of the Bisbee family said they hadn't seen a planetarium show for over 20 years. After the COVID-19 pandemic, Angela had looked for an outing for the whole family and decided to bring their two kids.
"Coming out of the pandemic we were looking for stuff to do, a family-friendly activity," she said. "We thought it was a lot of fun, how everything was put together."
The Fujitsu Planetarium has a variety of shows planned every Saturday for May 2023. Keep your eyes out for a Taylor Swift theme in the coming year. 
To attend planetarium shows, visit http://www.deanza.edu/planetarium for this quarter's schedule and event tickets.