Free plant pop-up helps students improve their mental health
Hundreds of students queued in lines within De Anza's busy dining hall during lunch hour. This time, they weren't just grabbing a bite to eat. Instead, they shared small talk and big laughs as they waited to take home something small but mighty sitting in a set of plastic, black trays: free plants.
The Free Plant Pop-Up is an initiative led by a group of De Anza students – including Ashley Huerta, Megan Cheng and Angelina Ryabechenkova – as part of the 2023 Foothill Research and Service Leadership Symposium. Huerta recalled the experience of watching students line up to take free plants home. 
 "I was shocked," said Huerta, 20, a biological science major. "I saw lots of people come, engaging and interacting with us about how they're going to take care of their plants, which (rocks)."
 She also explained the team's mission of improving college students' mental health as the reason for taking the initiative and their plan to build a platform that cultivates students who are interested in caring for plants. 
"We started this initiative because there's not a lot of studies on how plants can positively affect the mental health of college students," Huerta said. "Once we have established our research and findings here at De Anza, we are planning on potentially expanding our initiative to other colleges and universities involving partnering with local organizations to host pop-up events and share our resources with a much wider audience.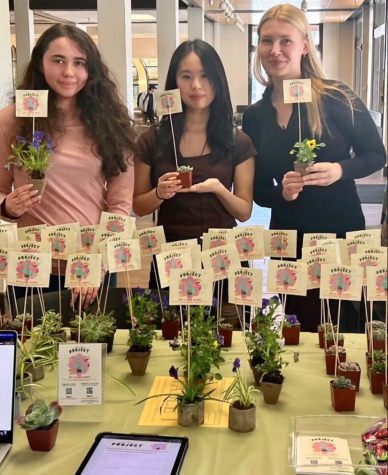 The event offered three types of plants for attendees to choose from, the first being spider plants, which have slender, strap-shaped leaves sprouting from a central point. The second type of plants were vibrant red and purple pansies with butterfly-shaped flowers and oblong leaves growing from the stems.
The third type of plant, lotus-shaped succulents, piqued the interest of 19-year-old biology major Zachary Randazzo.
"(I think) it's nice to have something else that's (actually) alive in my room," Randazzo said. "I've never had a plant pet. Succulents are a good choice because they said it's easy to take care of."
Fifteen minutes into the event, half of the plants were gone — but this didn't stop students from still lining up. 
By 2:48 p.m., the line had extended to the ATM machines, blocking the path to the food court door – however, there were only 10 plants left to give out to students. Huerta reflected on the large turn-out for her team's initiative. 
"I'm really happy that people actually came," Huerta said. "I didn't think that our initiative (would have) that much (of an) effect on students."
Van Pham, 19, business administration major, got the last spider plant and the last plant of the day . Pham said having a plant will help relieve her anxiety.
"When you put your focus on other living beings such as a plant, you're making sure that it's okay, not just surviving, but thriving," Pham said. "That's a way to get your mind off of problems and focus on something more beneficial."