Pandemic education invites new educational modalities
The COVID-19 pandemic has made guinea pigs out of community college students and teachers as online education continues to directly affect primary modalities of learning.
Studies from the National Bureau of Economic Research showed that in the first four months of spring 2020, community college enrollment dropped by 50,000 students, and by fall 2020 there was a deficiency of 180,000 students.
De Anza similarly followed this downward trend as seen in De Anza researcher Mallory Newell's comparison report  between spring 2019 and spring 2020 enrollment. 
"A further implication of removing EW (excused withdrawal) grades is that total enrollment decreased 13% from 43,581 to 37,900," Newell wrote. 
De Anza's change in enrollment was affected in part by challenges that COVID-19 introduced to the learning arena. As in-person classes were deemed unsafe, online learning made school possible, but not without struggles. 
De Anza English Department chair and instructor Kristen Skager said that being online for hours at a time was a new pressure for both herself and students. Her original in-person teaching methods such as project-based learning and group activities did not work as effectively on Zoom.
"I had to do more explanation (and) more instruction, so I had to figure out how to lecture concepts, share screens and shift that hands-on (activity) to a virtual space," Skager said. "It's getting more challenging because the expectation for online teaching is much more rigorous."
For physical education and automotive technician departments, who depended on hands-on work to be successful, the shift to online courses was a learning process. 
Dean of Physical Education and Athletics, Eric Mendoza said because physical activity creates a community setting, taking online courses requires dedication from instructors to create lessons and discipline from students to practice them. 
"For some students, it requires the dedicated time needed to master lessons at home and the motivation to complete workouts as if they were on campus," Mendoza said. "Not all activity classes are effective online, in some instances, optimal learning also requires a partner or small group work." 
Due to these learning restrictions, students' abilities to remain engaged in Zoom classes and retain information weakened.  
Automotive Technology Department Chair and instructor Dave Capitolo explained that because their classes are built on a 25% lecture and 75% lab basis, the pandemic made them 100% lecture based. This caused students to lose out on active learning opportunities. 
"I noticed at the beginning of last year that students who came into my class lacked the basic skills they would have learned in the lab classes, had they been face to face," Capitolo said. "Because of the time that we've spent on Zoom, it's going to take a while for students to get up to that level from when they first started."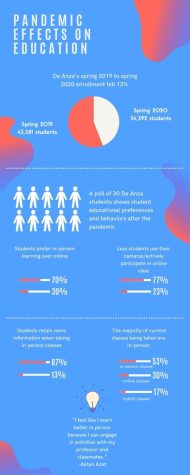 Skager mentioned that in-person teaching grants instructors the ability to read students' body language and facial expressions to see if they are truly understanding concepts and mentally present. This was made difficult during the pandemic as students could isolate themselves off screen.
 "When you're online you can't read (body language) as much," Skager said. "You sometimes see it in the face but if (students) have the video off, you can't."
Aktan Azat, 17, computer science major, who is currently taking two fully online classes, admits that he feels less motivated to participate online and doesn't have his camera on unless absolutely necessary.  
"Usually you don't participate as much because you're not in a place that you want to study, so you get lazy," Azat said. "I feel like I learn better in person because I can engage in activities with my professor and classmates."
Although the pandemic has changed educational styles as we know them, these shortcomings eventually became proactive. Online learning tools no longer limit students and teachers, but inspire them to get creative. 
During the middle of the pandemic, Capitolo and other auto tech instructors were able to come back on campus to teach in the shop. With the help of GoPros and other gadgets, students were able to get an in-person vantage point over Zoom class settings. 
"I developed a lot of ideas, technologically wise, that I could use even with students in the classroom," Capitolo said. "Doing a demonstration, I continue to use the GoPro and wheel a large monitor out to the shop so people in the back row can actually see." 
De Anza's auto tech department continues to benefit from technology through virtual tours of the shop that Capitolo makes as outreach to high schools. 
"There was some good that came out of it, but certainly not the teaching and learning part of it," Capitolo said.
Online modules on Canvas also helped students and teachers refer back to previous information and lectures. Using the term "scaffolding," Skager believes that because the online courses never go away, students can build off of what they learned in weeks past. 
"In person I sometimes struggled to bring everybody back from the weekend, online does keep it more present and the learning can go on outside of the regular classroom," Skager said. "On Canvas, (modules) are always visible to go back and look at previous weeks then implement it in later weeks."  
The post-pandemic De Anza campus has transformed the trajectory of learning to cater to the success of students. Compared to before the pandemic, more courses are now available in hybrid form and fully online modalities. 
According to Capitolo, enrollment for his department didn't suffer as their annual 2000 student enrollment was consistent and even rose throughout the pandemic. This was made possible with classes that appealed to students and industry technicians. 
"We lost a few but also gained a few through (asynchronous) non credit classes," said Capitolo. "In fall 2020 and winter 2021 our non credit enrollment was two times what it normally is because a lot of these students were attracted to the noncredit smog classes." 
Kristin Nguyen, an 18-year-old psychology major who is enrolled in both in-person and asynchronous classes, benefits from De Anza's multiple modalities as it offers flexibility to her schedule. 
 "I like online learning because my schedule is really busy," Nguyen said. "I play sports and work part time so online classes help with my time management."
Before the pandemic, physical education and kinesiology departments offered very few hybrid and online courses; however, after returning to campus, Mendoza said that modality adaptations have helped bounce back enrollment. 
"Today, we offer between 20-35 online sections per quarter. We have come a long way. Including some online lecture courses, we offered eight sections in winter of 2020," Mendoza said. "For winter of 2023, we are offering 30 online sections. More than a third of kinesiology activity courses are now online."
Many of De Anza's departments have shown their educational support by welcoming these modalities to their classes. Rather than offering solely in-person courses, instructors are teaching based on student preferences and needs. 
"Most of our faculty enjoy teaching a combination of in-person and online formats," Mendoza said. "Our full-time and part-time faculty members deserve a lot of credit in adapting to meet student needs."