Artificial intelligence and virtual reality technologies are transforming classrooms
ChatGPT has taken over headlines and caused controversy nationwide with concerns about damaging education's academic integrity. Foothill College, however, encourages discussions surrounding ChatGPT and is integrating virtual reality technology into the classroom.
On March 1, Foothill psychology chair Ben Stefonik, hosted a FHDA district-wide forum addressing ChatGPT and generative artificial intelligence. Stefonik and his students from PSYC/SOC 7, or Statistics for the Behavioral Sciences at Foothill, presented two surveys that were distributed to both students and faculty. 
The survey began as a project for Stefonik's students, but shortly became a district-wide event. Foothill College interim President Bernadine Fong, was asked by Stefonik to share with the community about the upcoming forum. 
Fong decided it was best for the forum to be accessed district-wide rather than just the Foothill community. 
"There were over 175 people at one point (at the forum)," Fong said. "Many of our students and faculty and I were really pleased to see the faculty participate because it has so many implications, pros and cons, for their teaching, and also for their service to students."
The survey addresses ethics and academic integrity issues, but also provides feedback about rates of usage, approaches to teaching with AI and recent social norms surrounding AI. 
At the start of the forum, Stefonik put out a disclaimer for those who attended.
"Let's also understand that there's probably gonna be some downsides that come with (ChatGPT) as well," Stefonik said. "I think it's our responsibility right now to problematize this, to start to understand what could go wrong."
The survey asked students and faculty if "ChatGPT and generative AI may benefit education in some ways." The survey showed that 62.1% of students agree that AI would benefit education, while 16.2% of students disagreed. 
As for faculty, 47.3% agreed it would benefit education and 27.2% disagreed. 
Students and faculty were asked about how they would feel if instructors added policies to their syllabi about their stance on using ChatGPT and generative AI for assignments – 73.9% of students agreed and 80.7% of faculty agreed. With generative AI becoming a new tool for students and faculty to use, 31.8% of students and 37.7% of faculty believed that a new norm will be developed for students to submit work that is partially completed by AI.
At the end of the forum, participants were allowed to ask questions and share their experiences surrounding ChatGPT. Foothill student Galen Mancino, who was unable to provide his age and major at the forum, mentioned how they utilize ChatGPT for their academics.
"I have been using ChatGPT as my own personal math tutor in my calculus course. It's been really helpful for breaking down concepts and showing more detail about the abstractions going on," Mancino said. "I will say, though, that you know there's like a 10% error rate where every once in a while it says essentially (that) two plus two equals five."
With generative AI possibly becoming a new tutoring or learning tool for students to use, academic integrity is what professors like Stefonik, who teaches two online classes, feel may compromise academic honesty. 
"I think it's causing a lot of challenges and a lot of problems. Just this quarter, I found, you know, numerous students have been using it for the essays and submitting the work that was generated by ChatGPT under their name," Stefonik said. "So I consider this to be plagiarism. I consider it to be a violation of academic integrity standards because it's not writing that was generated by the student, so in that sense, I view it to be problematic."
This is not the first time that new technology has been introduced and threatened academic integrity. In the mid-90s, the internet was introduced. 
Fong was president at Foothill for 12 years from 1994 to 2006, and the internet was emerging during her first term. Fong's goal was to "have Foothill be an educational leader in technology."
"I had a faculty member who was very innovative in computer science and so he came to me and he said, 'I know you want Foothill better with educational technology, (so) I could put my course entirely online,' and so I basically then (said) let's do it," Fong said. "So we had the first online credit course, probably anywhere in the country. I've not been able to find any other institution that really had it before us, and so that was I think the very first quote unquote innovation."
Foothill chemistry instructor Robert Cormia has made his position clear that he encourages students to use ChatGPT for tutoring. Cormia himself uses ChatGPT for tutoring and fact-checking himself for his lectures.
"I asked (ChatGPT) to compare and contrast two different methods of carbon capture, and in the split of a second, it just came back with the best answer I couldn't do on my best day ever," Cormia said. "I encouraged (students) to use this tool, but not to use (ChatGPT) to answer their homework." 
Cormia wants students to strengthen their current skill levels using generative AI.
"I think for students, it's important to use these tools with integrity, use it to become a better student, use it to push yourself to be better," Cormia said. "I would encourage students to be the best writer you could be so that you will get more out of this tool, be a critical thinker, understand how to ask difficult questions and always when you get an answer from this tool go back and give it feedback, be critical when you interact with (ChatGPT)."
De Anza College student James Elizaga, 21, computer science major, uses ChatGPT to help him debug his code and as a paraphrasing tool to help him with his assignments. Elizaga personally sees ChatGPT as a tool to improve his skills.
"Whenever I think about something that involves problem solving, I like to say that how you get there, that's important, you know?" Elizaga said. "It's not like the be all and end all of your project. It's a tool to get where you want to go, I'd like to think of (ChatGPT) as a supplemental instrument."
Elizaga said that people need to see ChatGPT and generative AI in a certain perspective.
"I think people have to think about generative AI as not just another Google search, you have to think about it as another person thinking with you, another person you're conversing with who's smarter than me, but is trying to help me out," Elizaga said. 
Foothill will begin their first attempt at a virtual reality lab and allow different departments and instructors to use virtual reality to have students immersed in their teachings in the upcoming spring quarter.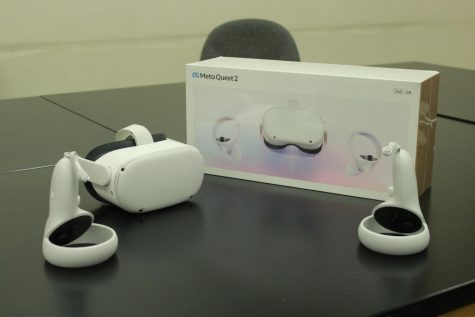 A virtual reality pilot was conducted during the summer of 2022, where each division and its faculty were given the opportunity to test out the VR headsets to potentially use them for their own courses. Konstantin Kalaitzidis, program coordinator for the STEM Center at Foothill, said that shortly after the pilot two class curriculums were proposed from the astronomy and cinematography divisions. 
Foothill astronomy instructor Geoff Matthews has a planned pilot for his astronomy class titled, "The 400 brightest stars in our galaxy," which will be Matthew's own VR universe he gets to show to his students. 
"So I want to do a test run with a small group of students so that I can get a sense of what it's like to actually be in that environment," Matthews said. "My particular lesson is looking at the concept of parallax, which is how we move around the sun (and how) our changing position causes the apparent location of nearby stars to change. The stars will be placed relatively close by and actually let students have that experience of moving side to side and seeing how the closer star appears to move more."
Victory XR, the company working alongside the Foothill instructors, is trying to create the desired environment for their class curriculums using the software Engage. 
The virtual reality project at Foothill is still in its early stages, and the STEM Center is in the process of setting up their lab in room 4220. Kalaitzidis has also used Victory XR to host virtual meetings using "Engage VR event."
In the meetings, there is a mix of faculty and students in attendance. The meetings are held in a conference room, but the environment can be set in different places such as the clouds, the sea or other virtual backgrounds.
Kalaitzidis has been the program coordinator for the VR project at Foothill and believes that this will revolutionize how students learn. 
"It's going to be an equity toolbox, and that's how we should all look at it. I look at ChatGPT and virtual reality and it is not going away," Kalaitzidis said. "So we have to evolve."