Kathryn Cooke proves education is possible after service
The colorfully connected hands stretching over the wall of De Anza College's Veteran Services Center paint a picture of solidarity between the school and veterans like Kathryn Cooke.
After serving for just under 13 years in the California National Guard and 10 years in full-time maintenance as a diesel mechanic, Cooke decided there was still time to pursue her education. Thanks to services offered by the campus, Cooke and other veterans attending De Anza have support and guidance offered to them every step of the way.
"I came to De Anza about six months after my contract ended with the CA ARNG," said Cooke, the now 34-year-old student. "I wanted to continue my education to get the knowledge I felt that I lacked when it came to civilian jobs and opportunities."
Despite attaining former experience during her service, Cooke searched for an opportunity to gain understanding and "fully bring (her) skills and experience into the workplace."
Cooke found her answer in De Anza's Auto Tech department and the Daytime Program, which specializes in automotive technology. 
"One thing that I am very happy about is that I am able to show people that automotive is not just for boys – anyone can do it," Cooke said. "You don't have to fit in a box, just follow what you want to pursue and what interests you."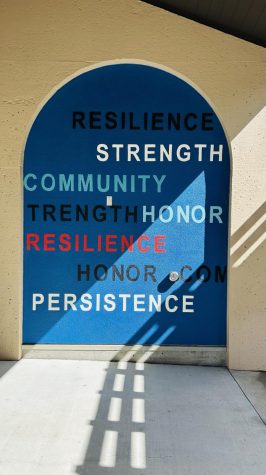 Veterans Resource Specialist Bertha Sanchez explained that pursuing education after service is not an easy decision. Luckily for veterans like Cooke, De Anza's Veteran Services Center assists them as they enter into their college experience.
"They are so used to having a daily routine, having order. This is a help to get back into the field and find employment," Sanchez said. "Allowing them to take a program at De Anza will further their education so they can concentrate on having a normal job."
There are several resources offered at the center, including designated counselors who help veterans understand their personal goals and align them with the right classes. By teaming up with outside sources like Goodwill, the center also helps veterans find a home.
"Some are barely getting out of the service and they don't have housing and they're not sure how they're going to get any help, so the first place they turn to usually is a community college because of the resources that we have available," Sanchez said. "We work with Goodwill for housing for homelessness – we get them lined up with whatever resources they ask for." 
The Veteran Services Center also works as an outlet for building connections between veterans who share similar backgrounds. 
Ameilia Sanchez, an assistant at the Veterans Center, believes this comradery is vital to their transition back into college.
"They have that connectivity with brothers from other branches, they help one another, and it's those veterans themselves that welcome other veterans and when they see that, it's a big help as well," Amelia Sanchez said.
Cooke personally found the veteran community to be a motivation for success.
"I think having a place for us to interact and meet up with each other is important," Cooke said. "Being able to discuss this new experience and any associated hardships with like-minded individuals who can help keep us motivated to continue succeeding is invaluable."
Bonding with her fellow veterans on De Anza's campus has also given Cooke a chance to express her creative side. Besides sporting self-painted nails and being a competitive Irish dancer, Cooke's artistic abilities can be seen in the creation of the Veteran's mural project, "Stronger Together."
The project was made possible by the joint efforts of the Cupertino Rotary Club and De Anza Foundation who sought the minds and handiwork of De Anza's veterans. 
While taking summer art classes and meeting with visual arts instructor Julie Hughes, Cooke said the experience was exciting because it was unlike anything she had done before.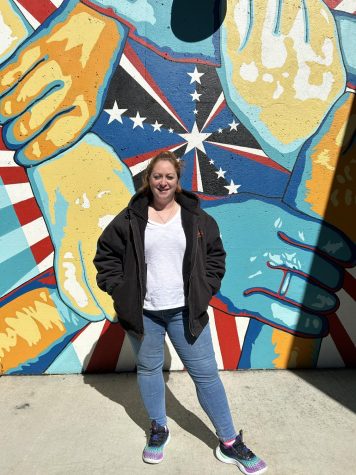 "The teacher, Julie, and I collaborated a lot on the mural itself, sending mockups back and forth and a few Zoom meetings with the rest of the outreach and the Cupertino Rotary," Cooke said. "They helped us whittle down what we wanted to present and now we have our final product up on the wall."
The "Stronger Together" project was made even more worthwhile with the extension of a second painted wall.
"It's so cool because we were just going to do one wall but then with the input of the veterans and what we wanted to project outwards, it ended up being two walls," Cooke said.
Like the freshly painted walls, Cooke's educational story is being written as you read this. Currently, she is working towards a major in automotive technology with a focus on engine performance. 
Cooke said her automotive classes incorporate students of all ages, allowing her to learn something from anyone.
"I'm in a class with people ranging from 19-years-old all the way up to 40 – it's very interesting," Cooke said. "There are many perspectives on how to approach things, so even just interacting with the people is a learning experience versus just the classroom and book learning."
Pete Vernazza, Cooke's instructor for the Electrical-Engine Performance Program and De Anza's automotive technology instructor, said that it is a pleasure to teach such a driven and generous student.
"This past December she made an incredible study sheet for her performance final. In my 25 years teaching this subject, it was the best I've seen," Vernazza said. "If that's not enough, she made 25 copies and gave them to all other students so they could use them to study. Rarely does a student make that effort and share with others."
With determination to accomplish any goal set before her, Vernazza calls Cooke a student with, "endless energy who is the heart of (his) class."