Black History Month: An exploration of resistance through community
Addressing multigenerational trauma, prioritizing anti-racist organizing and celebrating Black joy are three of the numerous perspectives that were shared during Black History Month at De Anza College. 
De Anza hosted a number of events and gathered insight from Black Student Union, various Black speakers and student voices to paint a deeper understanding of this month's value and how it was shown on campus. 
"Black Resistance," held on Feb. 2 with Dr. Benjamin Bowser, focused on how a history of slavery and violence towards African Americans has created multigenerational trauma in the Black community. He attributed the problems that persist in the present day, such as colorism and violence, to this multigenerational trauma. 
"Let's dissuade ourselves from the idea that there is some break between the past and the present," Bowser said. "You can anticipate the kind of continuity between events in the past that continue in the present and only get renamed." 
Black Student Union treasurer Joshua Pitt said that a highlight from Dr. Bowser's presentation was the acknowledgment of internal traumas within the Black community. 
"That just really hit home for me," Pitt said. "I come from a Caribbean background – my family is from Trinidad and Tobago. My great aunt was the first to move from the United States so I don't really know much about our history because they don't really like to talk about it that much. So (that's) definitely something that I want to ask her more about."
Phinhas Asmelash, 20, vice president of BSU, offered a different perspective on the significance of Black History Month. 
"It's about Black joy," Asmelash said. "Black joy is the greatest way to resist."
Asmelash said that Black History Month is a time to remind folks of what happened to Black people in the past. He said that revisiting these histories is a form of re-traumatizing that he does not believe is necessary. 
"We still need to be aware of it, but we don't want to get hit with it," Asmelash said. 
Instead, he is motivated by efforts that center around engagement. Asmelash said that BSU's activities largely focus on community building and highlighting Black excellence through weekly student spotlights.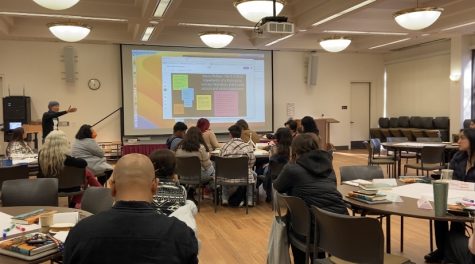 Recently, the club attended a cookout hosted by Black Outreach and held a study session in partnership with De Anza East African Student Association. Club and board members also regularly volunteer with Feed the Block to provide free meals to people experiencing housing insecurity. 
"Black is an experience more than a color. That's how I look at it," Asmelash said. "There's a variety of Black experiences. BSU is a hub for all those experiences to feel accepted."
De Anza also held "Anti-Racist Organizing: In Dialogue with Steve Phillips," on Feb. 7, which was attended by over 30 people, including individuals from equity-based campus organizations. A majority of the attendees were not Black. 
Steve Philips, guest speaker and author of "How We Win the Civil War: Securing a Multiracial Democracy and Ending White Supremacy for Good," shared his four critical ingredients to liberation and ending racism. These four factors were civic engagement, data-driven planning, strategic leadership and sustained long-term efforts. 
"The last piece of this liberation battle plan is playing the long game," Philips said. "Every single one of the places that I illustrate in my book took ten uninterrupted years of work by the same leadership and organizations methodically, meticulously working (to implement significant anti-racist change)."
Philips' talk highlighted how concepts that have been used in the Black liberation movement can be applied to solve equity issues across minority groups. The event was an opportunity for interested students to gather and have a safe space to learn about anti-racist efforts occuring on campus and in the local community. 
Chris Blue Lopez, 18, political science major, said that it was helpful to have a space to learn about each other's work and that he hoped to see more events like this on a larger scale. He also said the talk helped him learn how to create change, even as an individual.
"Maybe hosting events where people can register to vote or more informative ways of communicating with our local council members," Lopez said. "I really took a lot of mental notes on things that we De Anza students could do."
Some organizations in attendance were the Higher Education for AB 540 Students, Vasconcellos Institute for Democracy in Action and Foothill-De Anza Community College District Faculty Association Political Action Committee. 
Though voices across campus offered different perspectives, they each emphasized the need to put community at the center of their efforts during Black History Month and beyond. 
"One of the fundamental drivers of change has been young people and students on campus," Philips said. "That's the tradition that you guys are carrying on."