'To: Immigrants With Love': Fostering love for the undocumented community
"To: Immigrants With Love," hosted by Higher Education for AB 540 students and fwd.us, is a Valentine's Day event allowing students to write letters to those in the undocumented community. 
Stationed in the main quad on Feb. 14, participants could either write letters to immigrants they care about or write to the general undocumented immigrant population, HEFAS undocumented student support coordinator Shaila Ramos-Garcia said.
"We're going to be posting them in our HEFAS center for our students to see," Ramos-Garcia said. "It really helps for them to feel supported and seen, because usually they're not. They're living in the shadows, it's hard for them to come out. A lot of our students really struggle with impostor syndrome, feeling like they don't belong here."
HEFAS volunteer Anna Vo, 18, communications major, said she wanted to come to the event because she believes in the cause.
"I decided to come out to this event because I'm a volunteer," Vo said. "But I also wanted to write letters for immigrants because I think it's great to provide love and care to remind the students that they are loved."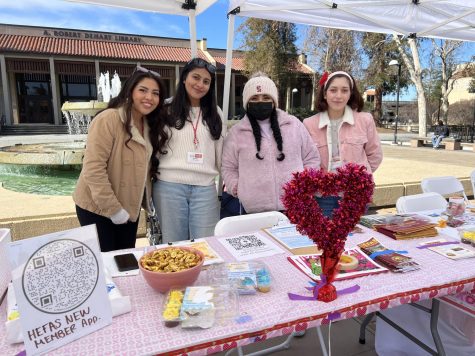 Like Vo, HEFAS membership coordinator Jocelyn Velazquez, 19, business economics major, said the event was about spreading the Valentine's Day spirit.
"It's just to show love at the end of the day," Velazquez said. "My role is to make sure that I'm a voice for the members in HEFAS, that their needs are provided and that they know HEFAS is an open inclusive space. I just want to show our members and our students that they have love here on campus."
Velazquez said another purpose of the event was to create more awareness about the resources HEFAS offers and to get more students connected with the program. Ramos-Garcia said one way they accomplished this was through a giveaway.
"One of our goals here today is to get the word out about the support that we can provide as a resource center," Ramos-Garcia said. "We're wanting to get more people to add us on Instagram and Discord because our social media is one of the ways we have the most outreach. We post opportunities, resources, jobs, internships, all of which are available for all students."
HEFAS central coordinator Ruchira Danavadi, 20, psychology major, said the event was an effort to share the love with students by bringing the community together.
"I think Valentine's Day is a celebration of love. All of us need that love in life," Danavadi said. "Less privileged people are struggling or going through hardships so this is our way to send them letters of love and comfort. This is also our attempt to make De Anza aware of AB 540 students and provide them with a community that is safe and approachable."
The overarching theme of this event is community and love. Ramos-Garcia said that making sure those underrepresented students feel seen is their biggest goal. 
"When they see the community showing love to them it means so much," Ramos-Garcia said. "It really makes them feel like they belong so we do as much as we can to show that they belong here and that they are seen and loved."