Silicon Valley Reads celebrates 'Journey to New Beginnings'
Three award-winning authors discussed their writing journeys and featured their books at the Silicon Valley Reads kickoff event on Jan. 26.
De Anza College hosted the event in the Visual and Performing Arts Center for students and the general public to attend. For the 20th anniversary of Silicon Valley Reads, organizers chose the theme "Journey to New Beginnings." 
The events featured Tommy Orange and his piece "There There," Amanda Skenandore and "The Second Life of Mirielle West" and Kai Harris with "What the Fireflies Know."
Sal Pizarro, a Mercury News columnist who moderated the event, started the conversation by asking what inspired each of them to start writing.
Tommy Orange said he was motivated to write because growing up, he didn't see any Native American authors write about their urban Native life.
"Native authors that I read in my MFA program did a lot of reservation life writing and (wrote) very little about urban Native life, which is what I wanted to (focus on)," Orange said. "That was my journey – I was completely on my own."
Amanda Skenandore said that she initially chose to pursue nursing in college but quickly realized that she didn't enjoy it. She quit and went to a local college where she started writing novels. 
"I took a short story class at the local college and I just really rekindled this idea of the potential of what stories can do," Skenandore said. "When the teacher said short stories are great but a novel can change your life, I just really took that to heart and told my husband, 'I'd like to quit my job and try to write a novel.'"
Kai Harris said that she started writing fiction when she read pieces by authors that shared a common identity with her. 
"When I was in my 20s, I started writing fiction, and also that was the time where I was first exposed to reading fiction by authors who shared identities with myself," Harris said. "But (it wasn't) until much later in my life, when I was in my late 20s, that I finally embraced my own identity and the stories that I had to tell."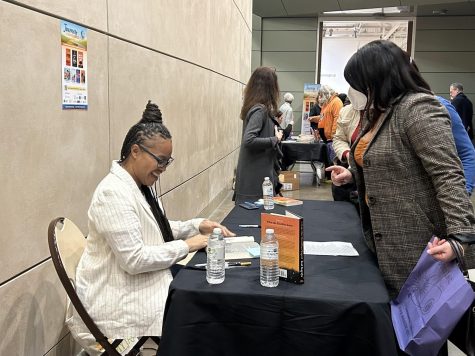 Pizzaro discussed the impact of "What the Fireflies Know" with Harris and she explained the book was born from a story of her own experience. 
"I'm teaching 'The Bluest Eye' by Toni Morrison and we watched one of her interviews where she was talking about something similar like, 'I don't know that I'm doing anything specific or on purpose outside of just putting an experience on the page,'" Harris said. "I think that's what's happening for me."
Harris also said that she loves Black girlhood stories because it puts all of the readers in "the same conversation."
"It gives people an opportunity to see into an experience in a way that they may have not before," Harris said. "It also makes people who have lived that experience feel so welcome on the page. Whichever one of those things describes you, whether it's your identity, or it's not, you're going to be able to connect to it." 
Pizzaro then discussed Orange's featured book, "There There," and its non-traditional structure. Orange said he uses point of view as a "tool" to serve various purposes in his writing. 
"I feel like I use (it) to differentiate between all of the characters as you're going through your reading experience," Orange said. "For two different characters, I would switch from first-person to third, or I would switch past tense and present tense." 
In Skenandore's book "The Second Life of Mirielle West," she discusses the subject of leprosy, or Hansen's disease. Skenandore said she was looking for what to write about next when she suddenly discovered a book called "Carville: Remembering Leprosy in America." 
"I was struck by how little I knew about the disease and (that) what I thought I knew about the disease was wrong," Skenandore said. "The patients who went to the leper colony suffered great tragedy – not only from the disease, but also from the isolation of being there and the stigma that surrounds the disease."
Skenandore said she admired the Carville patients, who, in spite of suffering from the disease, still found a way to build connections with one another and find meaning in their lives.
"I think what draws me to historical fiction is this idea that there is so much in the past that is still relevant to our lives today," she said. "Though Hansen's disease is now entirely treatable, there are still instances where we are ascribing a level of morality to bacteria and viruses that don't have any innate moral goodness or badness attached to them. There was something in the tragedy of Carville and the patients who were ripped apart from their lives that might still resonate with people today."
To finish the conversation, Sal Pizzaro said that the three featured authors all shared a common identity even though they came from different backgrounds.
"As I was listening to all three of your stories, I can say that those stories found you guys. It found you when you were working in the bookstore. It found you when you were working as a nurse. It found you through poetry," Pizarro said. "Then you internalize them, and you find who you are through what you are writing."