Rate My Professors: How do De Anza instructors feel about it?
RateMyProfessors.com allows students to anonymously rate a professor out of five based on their difficulty and their overall teacher style. This public site holds ratings and comments of all kinds, ranging from positive to negative, so how do De Anza College professors feel about it?
The site provides the option for users to provide details such as the course name, grade received, whether students would take the class again and a written review. This all goes to affect the listed professors' overall score which can be viewed by the public. 
The site also allows students to rate schools, such as De Anza. The school holds a 3.6 overall rating with 314 posted reviews about student experiences with De Anza.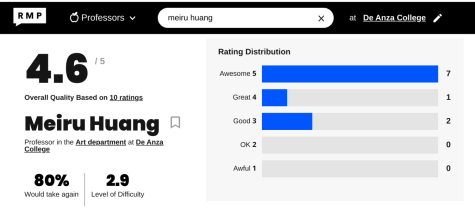 Art professor Meiru Huang currently holds a rating of 4.6 out of 5 stars on the site. Huang is familiar with the website and said that though it may affect the way students plan their class schedules or which professors' courses they take, it does not affect her self-esteem. 
"It might affect students' decisions a lot about taking the class. Things are usually out of my control so I try not to get too fixated," Huang said. "It doesn't affect me too much."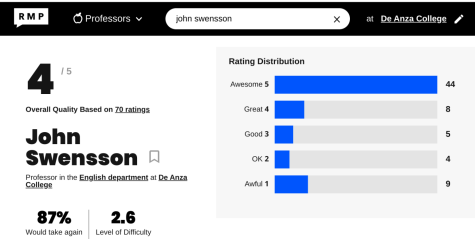 Political science professor Jim Nguyen currently holds a rating of 4.8 out of 5 and says most of the negative ratings come from students who received unsatisfactory grades.
"There were times where it would bother me," Nguyen said. "They got a grade they didn't expect and they got mad. Thousands of good ratings and that one negative gets to you. At the end of the day, you have to be secure in your own teaching style. Canceling out the rest of the noise to focus on what you need to focus on doing. You can't make 100% of your class happy."
English professor John Swensson currently holds a rating of 4.0. In contrast, Swensson said he has not opened the site in over a decade because he believes it is not an accurate representation of professors. 
For choosing classes, Swennson said, "word of mouth is the most important thing. I think I have a good reputation for helping students and classes are always filled out." 
Huang has her own method for dealing with criticism on RateMyProfessors.
"I heard from some other students (on RateMyProfessors) that I'm a little bit hard on grading," Huang said. "I checked my curriculum and I thought, 'You know what, I don't think that's necessarily true,' and then I'd just move on. This is generally how I approach all student evaluations."
Nguyen has used the feedback received on the website to rework his grading.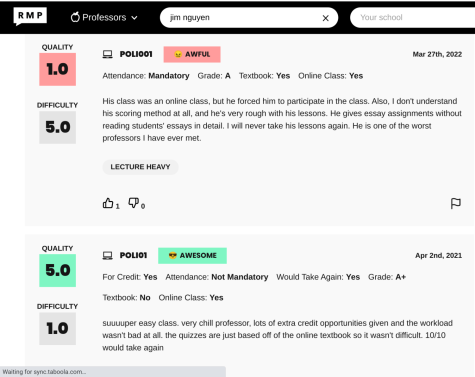 "The distinction between feedback versus criticism is important," Nguyen said. "Some students want to keep projects, others want it to be modified to be more easy to use."
Nguyen said a careful balance for grading is required because De Anza has students with different educational goals: some only want to receive credit for the class, while others want to apply and commit themselves fully to their classes. 
"I still want to do my best for those who want to put in the work — the intellectually curious," Nguyen said. "Those who look at a class as more than something they just need to put on their transcript."
Despite Swensson's high rating on the site, he does not believe it properly gauges professors' potential. 
"You can take a look at it, but it's not the only source for picking a class and it's definitely not the best source," Swensson said. "It's very important to get selfish about your education and seek out which professor you want".
Huang does not recommend using the website to students, and encourages them  instead to reach out to professors to gauge whether a potential instructor or course is one they should take. 
"I hope that students that are thinking about taking classes feel comfortable reaching out to us," Huang said. "That's always my first thing to tell students — just communicate."